Welcome to the Top 6 Best Pool Robots of 2023! With over 50 different pool robots, finding the right robot can be hard. So we break down all of the top robots, their features, and which is best for your pool. Follow along as our resident pool experts carefully curated the top robots all in one place.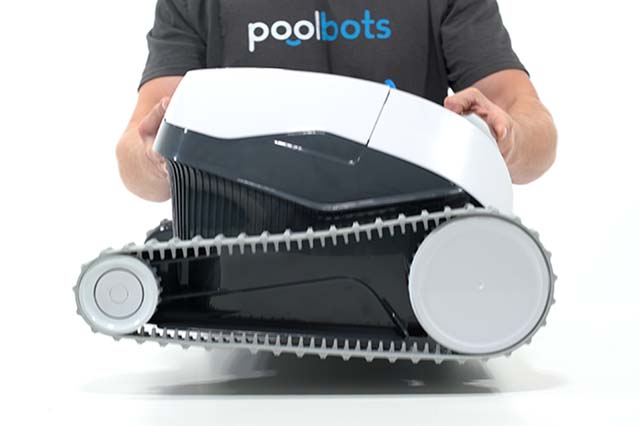 Our approach involves simplifying technical terms and providing practical explanations. We concentrate on highlighting the essential aspects that greatly impact performance and user experience. For instance, did you know most pool robots lack real filters? Instead, they utilize mesh screens that permit small particles of dirt and debris to easily pass through. Now, without further ado, let's dive in!
Why Trust Poolbots?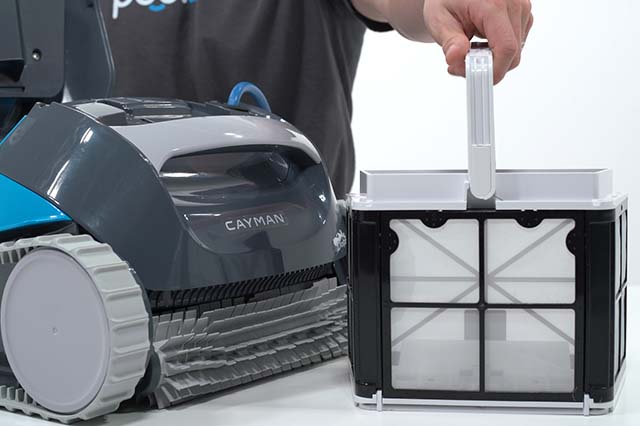 Why is Poolbots the authority on pool robots? We are pool robot specialists and nobody sells more pool robots. We live and breathe pool robots every day and have extensive experience in testing over 40 different robots in our laboratory equipped with five 8'x20' tanks. We collected and compiled the most up-to-date data on the latest technology and feature sets. Whether you have a gunite pool, fiberglass pool, or even an above-ground pool, we've got you covered. Within 5 minutes, you can find the perfect pool robot to keep your pool clean and well maintained.
In this article, we will outline the Top Robotic Pool Cleaners every buyer should know when selecting a robotic pool cleaner for 2023.
1

Dolphin Sigma: Maytronics' Most Advanced Robot Ever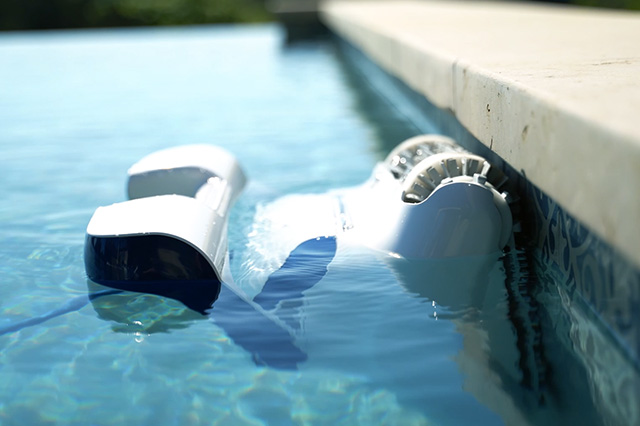 Located at the top of the Dolphin ProLine™, the Dolphin Sigma is Maytronics' most advanced robot ever. The Dolphin Sigma is one of the best Dolphin pool robots ever created - providing an exceptional clean and value. With a gyroscope, myDolphin Plus App, Advanced Weekly Timer, Cleaning History, and more, the Sigma packs more tech and even upgraded Triple Commercial Grade Motors. Built on a commercial platform, the Sigma has more cleaning power than other residential pool robots. With more features, more power, and a 3 year warranty, the Sigma gives you the most bang for your buck out of the Dolphin lineup while providing a top notch cleaning performance.
The Sigma takes ease of use to another level. With the Connect Anywhere Power Supply, you can turn on and program the Sigma from anywhere once you connect it to your home Wi-Fi. Don't have a good Wi-Fi signal near your pool? No problem. The Sigma is also equipped with Bluetooth. If you're a high tech fan, this is the robot for you.
What's included with the Dolphin Sigma?
Triple Commercial Grade Motors
Gyroscope
Advanced Weekly Timer (Program on the app)
Anti-Tangle Swivel
SmartNav 3.0
Remote Drive (Remote Control through the app)
NanoFilter set
Standard Mesh Filter set
Cleaning History
Advanced Stats: Let's you know gallons filters, distanced travelled, and more
Waterline Cleaning
Wall Cleaning
3 Year Warranty
And More...
2

Dolphin Premier: Best Robot for Leaves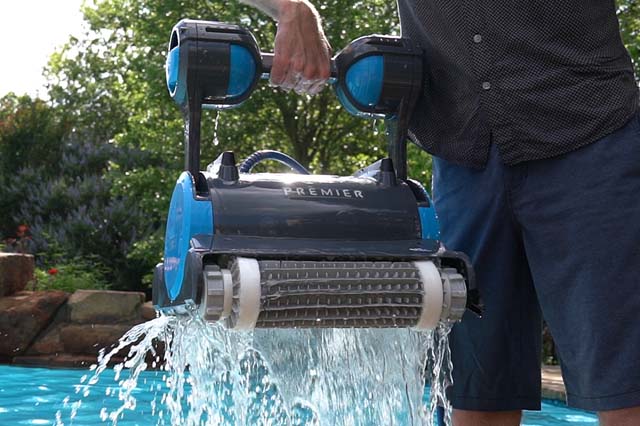 At the top of our list, you simply cannot beat the Premier's insane value. Rated the Best Pool Robot for 2023 by USA Today, the Premier is certainly favorited by pool owners everywhere. Being the only Dolphin with a Leaf Bag, having the ProLine™ Commercial Grade Motors, and including the coveted NanoFilter™ set, the Dolphin Premier performs like no other. With waterline cleaning, it moves horizontally along the waterline cleaning the direst part of your pool for you. All while capturing microscopic bacteria with its NanoFilters.
Talking ease of use, the Premier has a Programmable Weekly Timer and a MediaAlert Full Filter indicator. It is plug and play, so simply drop the Premier and turn it on - no programming or setup needed. There is a reason why the Dolphin Premier is Maytronics' flagship robotic pool cleaner. Included is a full 3 year warranty, so you can have piece of mind when investing into your pool.
So what's included?
Programmable Weekly Timer
Dual Commercial Grade Motors
Anti-Tangle Swivel
SmartNav 2.0
MediaAlert™ Full Filter Indicator
Oversized Leaf Bag
NanoFilter set
Standard Mesh Filter set
Waterline Cleaning
Wall Cleaning
3 Year Warranty
And More...
3

Dolphin Quantum: Best Overall Value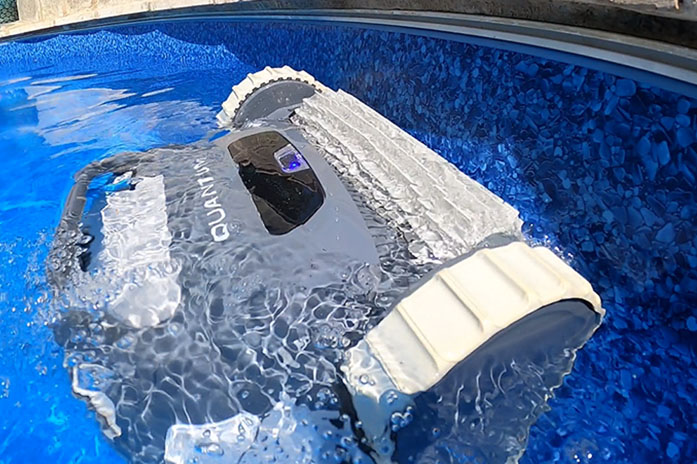 The entry level ProLine™ robot packs a huge bang for your buck. With the only robot with a NanoFilter Basket, the Dolphin Quantum provides an unparalleled cleaning performance every single clean. This robot is a great model if you want all the essential features such as waterline cleaning, NanoFilters™, and a programmable weekly timer. Equipped with SmartNav 2.0, the Quantum covers your pool's floor, wall, and waterline with ease while vacuuming all leaves, algae, and even microscopic bacteria with its NanoFilters.
The Quantum has everything you'll want in an automatic robotic pool cleaner. Automate pool cleaning thanks to its Weekly Timer, as you only have to go and rinse the XXL MaxBin™ once a week. This bin is larger than the standard MaxbBin™, allowing you to capture more than any other filter basket from Dolphin.
So what's included?
Programmable Weekly Timer
Dual Commercial Grade Motors
Anti-Tangle Swivel
SmartNav 2.0
Oversized NanoFilter Basket Set
Oversized Standard Mesh Filter Basket
Waterline Cleaning
Wall Cleaning
2 Year Warranty
And More...
4

Blue Helix One: Best Robot under $1000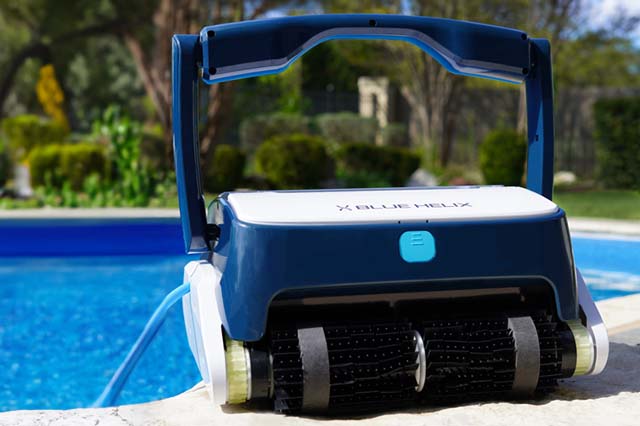 New for 2023, the Blue Helix One redefines what it means to be a robotic pool cleaner. One of the best bang for your buck, the Blue Helix is value packed with features only found on robots that are $1000+. With waterline cleaning, a smartphone app, huge dual filter baskets, the Blue Helix One is a heck of a value. The app is easy to use via Bluetooth where you can manually control it, program it's timer, and select its Focus Cleaning mode: a feature not found on any Dolphin robot in this price range.
With its Focus Cleaning feature, you can target your pool floors, pool walls, and even make sure the robot cleans the floor more than the walls, allowing more customizable settings than any other robot on our list. Our pool experts put the new Blue Helix One to the test, and it didn't disappoint.
So what's included?
Focus Cleaning Mode: Directly target only pool floor, walls, floor + walls, & waterline
Dual Oversized Filter Baskets
Weekly Timer (Directly power supply)
Advanced Weekly Timer (Program on the app)
Remote Drive (Remote Control through the app)
Waterline Cleaning
Wall Cleaning
2 Year Warranty
And More...
5

Dolphin Cayman: Best Budget Pool Robot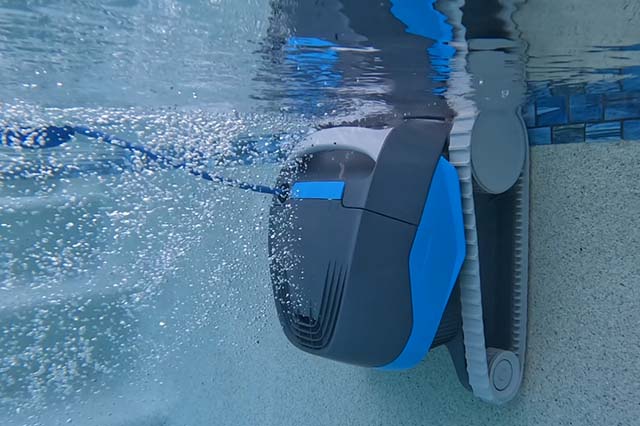 For under $800, you simply cannot find a robot better than the Dolphin Cayman. The Cayman is an entry level cleaner, but it still packs all of the essential features and more. With a programmable weekly timer, you can set the robot to clean your pool daily, every other day, and more. It even includes wall climbing, which is a feature not found in lower level units. Once it finishes it's weekly schedule, simply wash out the easy to clean filter basket, throw it back in the pool, and you're good to go. The Cayman gives something every pool needs: Full cleaning automation.
You can even add a NanoFilter™ Basket to the Cayman for an even deeper clean.
The Dolphin Cayman includes:
Easy to Clean Filter Basket
SmartNav 2.0
Programmable Weekly Timer
Wall Cleaning
2 Year Warranty
And More...
6

Dolphin Escape: Best Above Ground Pool Robot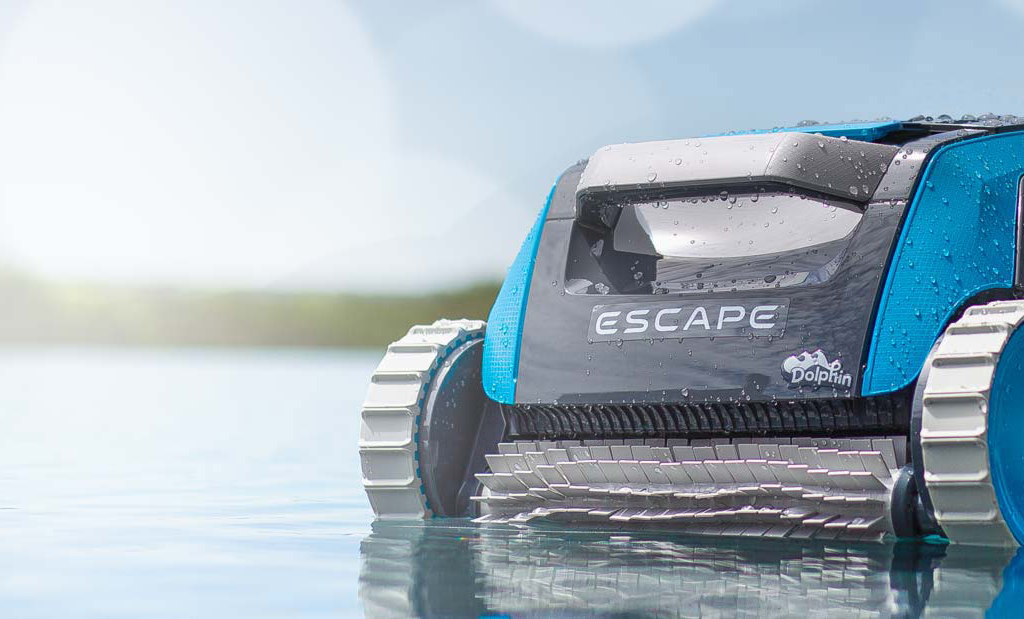 Nothing compare to the flagship above ground pool robot from Maytronics. Built specifically for above ground pools, the Dolphin Escape is the perfect solution if you have an above ground pool. It's fantastic cleaning performance blows old cleaners out of the water. The newest generation has the upgraded SmartNav 2.0, providing a spotless clean in your pool. Built for pools up to 33ft, you can even use it on smaller in-ground pools. So when looking for the best above ground robotic pool cleaner, make sure to take a look at the Dolphin Escape.
Additionally, look into adding a NanoFilter™ Basket to the Escape for an even deeper clean.
The Dolphin Escape includes:
Easy to Clean Filter Basket
SmartNav 2.0
Floor Pool Coverage
2 Year Warranty
And More...
No Restocking Fee Ever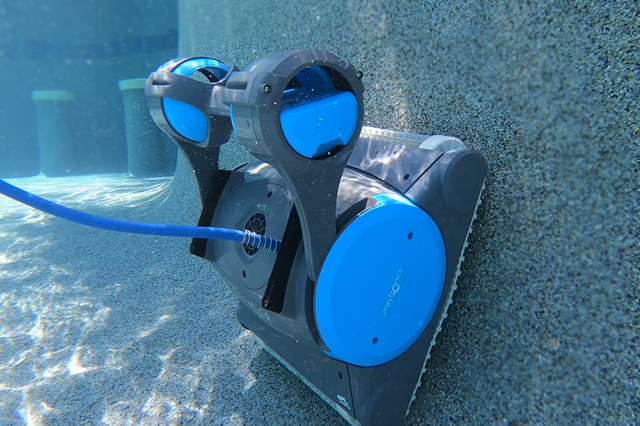 Your pool robot purchase is only as good as the company that sells it. At Poolbots, we know a pool robot is one of the biggest investments in your pool you'll make. As a proud Authorized Delaer, every unit we sell is backed by a full warranty, and additionally we never have any restocking fees or hidden fees. We know that selecting the right robotic cleaner for your pool can be an overwhelming task, as it is a significant investment. Unfortunately, many online retailers are reluctant to refund your hard-earned money. Although these retailers may advertise hassle-free returns, they often fail to disclose the substantial restocking fee they impose. We received a customer's testimonial recounting their unpleasant experience of being unexpectedly charged a 20% fee.
Here at Poolbot's there are no restocking fees ever. While Amazon is a popular platform for purchasing pool robots, it is crucial to carefully review the terms and conditions to avoid hidden fees. Shockingly, approximately 90% of pool robots sold on Amazon entail a 20% restocking fee. Don't fall victim to such exploitative practices. Prioritize the "No Restocking Fee" assurance to ensure a confident purchase without any concerns about concealed costs.
Which robot is best for your pool?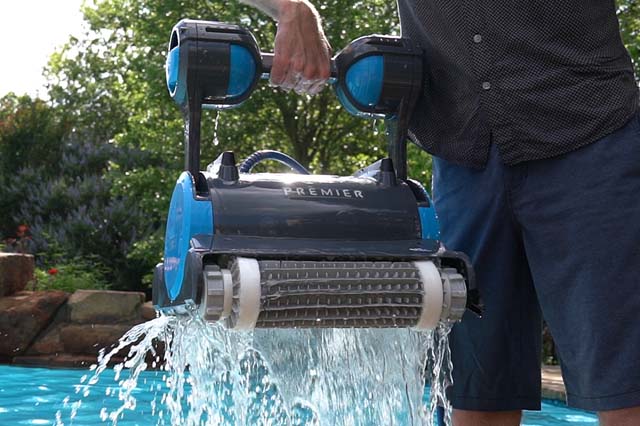 When looking for a pool robot, you'll want to take all of these options into consideration.
Here at Poolbots, we will never charge a restocking fee and always offer a free 30 day trial. We know a robotic pool cleaner is the heart of your pool, choose with confidence.