A pool vacuum is essential for any above-ground swimming pool. Whether you've wanting to upgrade an old-fashion pressure-side pool sweep or a proud new owner of an above-ground pool, finding the right equipment can be hard - especially when it comes to world of robotic pool cleaners. With so many models, brands, and categories to choose from, our pool experts are here to help. If you want 1-on-1 support, chat or call one of our in-house pool experts by visiting our contact page. So let's dive into above-ground pool cleaners, what to look for, and which is best for your above ground swimming pool.
Why use an Pool Robot in an Above‑Ground Pool?
A robotic pool cleaner can automate a lot of your cleaning in a swimming pool. Whether it is vacuuming leaves, scrubbing the floor or walls, or simply filtering the pool water, a pool robot can do it all. Acting as a secondary filter to your pool, a pool robot with NanoFiltration™ can even help you clear up cloudy or green pool water. So let's dive into the 3 key things and the nice-to-have features to look for in an above-ground pool robot.
3 Essential Features for Above-Ground Robots
Filtration: One of the biggest things to look for in a pool robot is its filtration. The difference between the standard filters vs NanoFilters is astonishing. Avaliable only in Dolphin Max-Series™ and Dolphin ProLine™ models, the NanoFilters™ are essential as they capture more than the standard filters found in earlier Gen-1 Robots.
Motors: In most above-ground pool cleaners, the robots are equipped with cheap motors that can barely vacuum the pool. With the better performing robots having dual motors, these robots can vacuum and scrub your pool with power. Avoid any robot with under 4000 GPH of suction power, as in our testing, we found that these robots performed poorly to units with stronger motors.
Active Scrubbing: Moving at over twice the speed of the unit, Active Scrubbing allows the cleaner to actively scrub your pool floors. What you see in most lower-end pool robots is the unit not having a brush and the cleaner simply runs over the debris hoping to grab it. That is not the case with Active Scrubbing, as the pool robot becomes more than a vacuum, but a true pool cleaner.
The Nice to Have Features
Weekly Timer: A weekly timer allows you to schedule the robot to run on a daily basis. This allows the robot to clean your above-ground pool at set intervals. It is only avaliable on select, higher-end units, such as the Dolphin Cayman that we cover. But, it is well worth it if you don't want to have to restart or charge the unit every day.
Wall Climbing: Not all robots are created equally. Wall Climbing allows the robot to climb and scale your pool's walls. This allows your robot to clean some of the dirtest parts of your pool. While most above-ground pool owners won't need this, it can help keep your pool brush in the shed, as the robot will help clean the walls for you.
MaxBin™: This easy-to-clean filter bin is larger than previous generations of Dolphin cleaners. To clean the MaxBin™, simply just drop the tab and rinse - it's that easy.
Best Overall: Dolphin Escape
There are a lot of above‑ground pool cleaners to choose from, but only one cleaner is the flagship above-ground models from Maytronics. The Dolphin Escape is the best overall above-ground pool cleaner. With an affordable price tag, HyperBrush™, MaxBin™, and more, the Escape is our top choice and checks all our essential boxes plus a few more at a great price.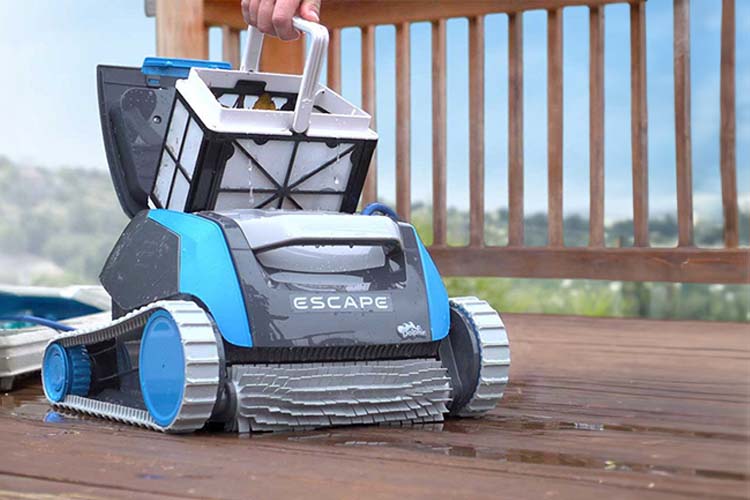 With dual DC motors, the Escape filters over 4000 GPH in your pool. With a HyperBrush™, the active scrubbing helps dislodge any debris and vacuum it into the MaxBin™. These features allow the Escape to be one of the best performing automated pool vacuums for above-ground pools. With optional NanoFiltration, the Escape can be upgraded to clean even deeper. Free with purchase at Poolbots when you add the Escape NanoFilter panels to your cart and use code: DEEPCLEAN23
Equipped with SmartNav 2.0™, the Escape is apart of the Dolphin Max-Series which have the MaxBin™, HyperBrush™ Active Scrubbing, and optional NanoFiltration. See for yourself why the Escape is rated the best above-ground cleaner and take part of our risk-free 30 day trial here at Poolbots.
Best Splurge: Dolphin Cayman
The Dolphin Cayman is one of the best options if you want to splurge and get the best of the best. With more feautres, such as the Weekly Timer and Wall Climbing, it has all our nice-to-have features and a little more. Equipped with everything you need and more, the Dolphin Cayman truly is an automatic pool cleaner.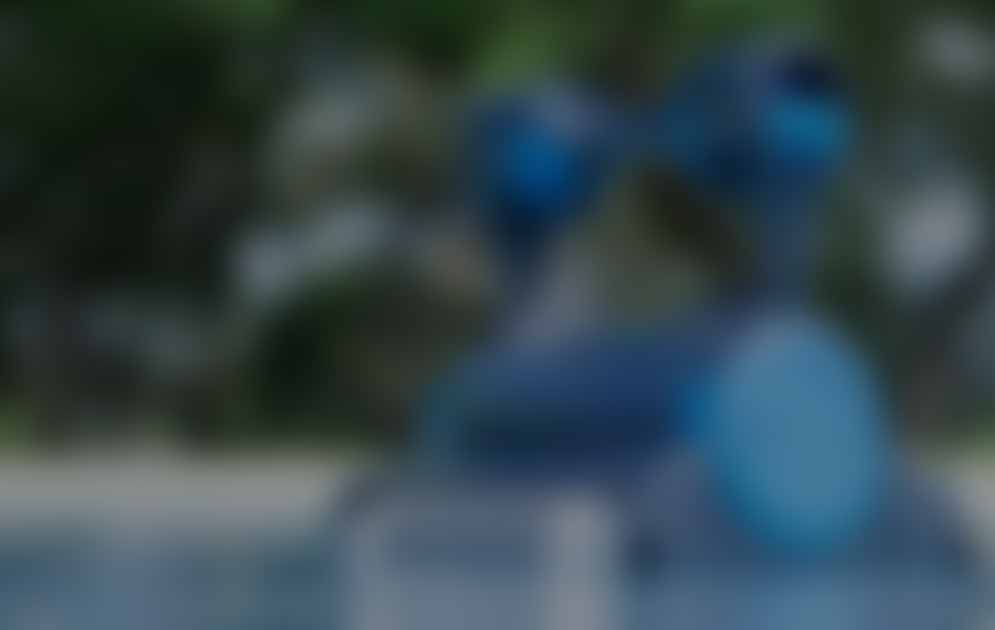 Equipped with the MaxBin™ and optional NanoFilters, the Cayman expands on the Escape's pool coverage as it cleans the walls. Often the direst part of your pool, the Dolphin Cayman cleans this area exceptionally. This helps you leave the pool brush in the shed, as the Cayman takes over and does the work for you.
The Weekly Timer is probably our favorite addition to the Dolphin Cayman. With the ability to schedule cleaning cycles, the Cayman can automatically run once a day - allowing the Escape to be a true automatic pool cleaner. The addition of the wall climbing and weekly timer is well worth it in our opinion, as we found ourselves using this feature way more than we thought we would.
Lastly, the Dolphin Cayman has NanoFilter capability. This upgrade allows the Dolphin Cayman to capture debris other pool cleaners miss. Free with purchase at Poolbots when you add the Cayman NanoFilter panels to your cart and use code: DEEPCLEAN23. If you want to splurge and enjoy features that enchance the pool cleaner owning experince, this is the pool robot for you.
Best Under $500: Dolphin E10
It can't get more simple. The Dolphin E10 is a great budget option for above-ground swimming pool owners. Apart of the Dolphin Explorer lineup, the E10 is the entry-level pool cleaner. While it lacks all the bells and whistles found in other models on our list, if you're wanting to save money, it is a good alternative.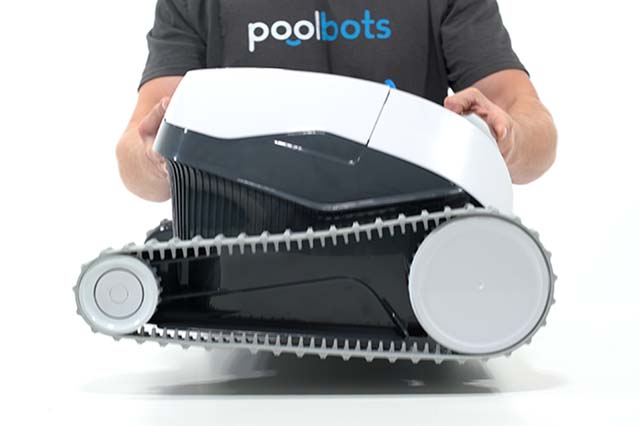 The Dolphin E10 is equipped with dual motors that also boast over 4000 GPH. With a spinning scrubbing brush, the E10 actively vacuums dirt, debris, and larger leaves into its filter bin. With a basic on/off switch, you need to start it daily - but it couldn't be more simple. Our pool experts loved how simple, yet effective the E10 was at cleaner larger debris. However, it did struggle with smaller debris and clearing up cloudy pool water, as it lacks any NanoFilter™ capability. So, if you struggle with smaller debris like sand, dirt, algae, it may be worth the upgrade to the Dolphin Escape or Dolphin Cayman, which both have NanoFilter compatibility.
While the Dolphin Escape has the MaxBin™, HyperBrush™, and optional NanoFilter™ (Free currently with purchase at Poolbots), it is a league above in terms of cleaning performance. Be weary of a hidden-restocking fee when shopping from other places as well, such as Amazon or other Authorized Dealers. So make sure to check their terms and conditions before you buy. Here at Poolbots, we never charge this fee. So if you want to try the Dolphin E10 in your pool, we offer a risk-free trial for 30 days!
Best Cordless: Dolphin Liberty 200
If you want a cordless pool robot, the Dolphin Liberty 200 is the best option for an above-ground pool. The Liberty 200 is essentially a cordless Dolphin Cayman that costs a few hundred dollars more, with less features. While this cleaner performs great in the water, there are a few drawbacks that you may want to consider when looking for an above-ground cleaner.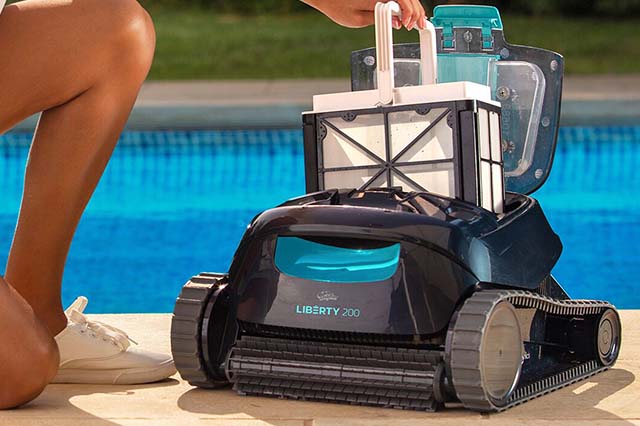 The cordless aspect of this cleaner means you have to charge it after every single cycle. Which can be a pain. Rather than the other cleaners on our list which can either autostart via a programmable timer or rerun the cycle by pressing start, the Liberty 200 does not have that luxury. It requires a few hours of charging before it can be used again, which we thought was a pain when we dropped it in our pool.
However, the Liberty 200 is a fantastic solution if you need a cordless robotic pool cleaner. It by far is the best out there, but we wanted to share the drawbacks we found during testing. Once the battery tech is there and it can run for a week at a time, this cleaner would be a perfect solution. It's more powerful than most cordless pool cleaners, but cannot compete with the corded models.
Best Robot for Intex Pools
Once again, our pick for intex pools is the Dolphin Escape. The Escape is an ideal choice for Intex pools, known for its exceptional cleaning performance and user-friendly features. Its lightweight design and HyperBrush™ make it perfect for Intex pools, which often have softer pool linings that require gentle yet effective cleaning.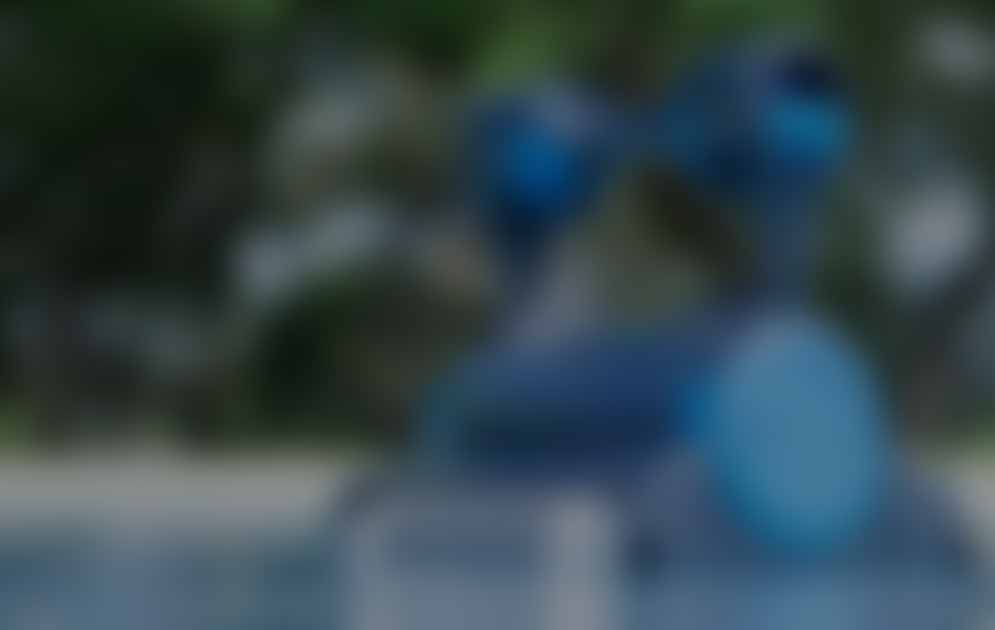 The Dolphin Escape's SmartNav 2.0™ ensures comprehensive coverage of the entire pool, no matter what shape it is. Whether you have a circle, oval, or rectangle pool, the Dolphin Escape has you covered. With efficient DC motors, the Escape is energy-efficient, but effective. Moreover, the optional NanoFilter™ upgrade captures even the smallest debris, leaving your Intex pool sparkling clean.
Best for Summer Wave Pools
For Summer Wave pools, the Dolphin E10 stands out as the top pick. This model is specifically designed for above-ground pools like Summer Wave pools, providing a thorough cleaning without damaging the pool's structure. The E10's compact size allows it to maneuver with ease in smaller pools, ensuring no corner is left untouched. Its active brush spins two times faster than the speed of the robot, effectively removing algae and stubborn dirt. The Dolphin E10 is also easy to operate, with a simple plug-and-play setup that requires no additional connections or hoses, making it a hassle-free option for Summer Wave pool owners.
Best for BestWay Pools
The Dolphin Explorer E20 is a great choice. It's engineered to offer an advanced level of cleaning, handling the specific needs of BestWay pools, which often include varied shapes and sizes. The Explorer E20 features a top-access filter basket, making it easy to clean and maintain. Its CleverClean technology ensures efficient and thorough scanning of the entire pool, providing coverage that is both systematic and complete. The lightweight design of the E20 makes it easy to handle, and its active brushing action effectively removes algae and bacteria, ensuring a clean pool for BestWay pool owners.
Best for Blue Wave Pools
For Blue Wave pools, theDolphin Cayman is the recommended choice. This robotic cleaner is known for its HyperGrip tracks and MaxBin™, which make it perfect for the larger and deeper Blue Wave pools. The Cayman's advanced scanning technology, SmartNav 2.0™, ensures it covers every inch of the pool, including walls, while its powerful suction and scrubbing action guarantee a deep clean.
Its MaxBin™ is easy to clean, and the robot's energy efficiency makes it an economical choice for regular use. Additionally, the Dolphin Cayman's robust design and durability make it an excellent long-term investment for maintaining the pristine condition of Blue Wave pools as it includes a 2-year warranty from Authorized Dolphin Dealers like Poolbots.
Why Trust Poolbots?
Why is Poolbots the authority on robotic pool cleaners? Well, it is simple. No one sells more pool robots. All of the pool experts here at Poolbots.com have hands-on experince with all of these cleaners and so many more. We've hand-selected each cleaner we carry after months of testing, quality control, and more from only the biggest brands. Poolbots carries the largest selection of above-ground pool cleaners. We know it can be stressful owning a pool, which is why we are here to help. Need help picking a pool robot? Talk to one of our pool experts via chat, phone, or email at our contact page. We look forward to helping you!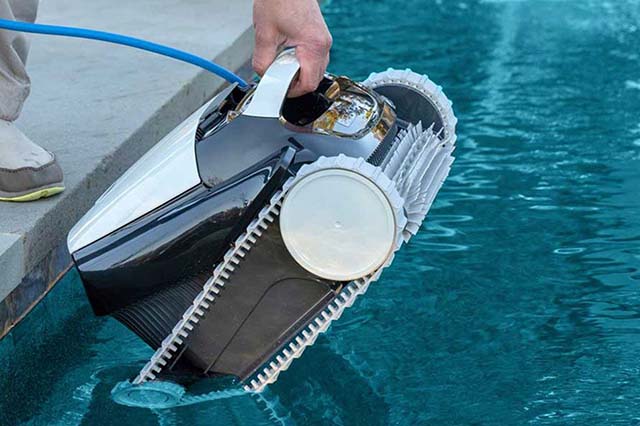 Conclusion
In conclusion, there are a lot of choices to make when picking a pool cleaner. We hope we helped narrow down your search or helped you find the key essential features to look for! If you need any help, make sure to contact us where we have pool experts ready to help you find the right pool robot and pool equipment for your swimming pool.