Every pool owner wants a sparkling clean pool. Creating and maintaining your swimming, however, can be a headache. A critical part of pool maintenance is the trusty pool vacuum, an essential tool that vacuums and cleans your pool. But not all pool vacuums are created equal, and choosing the right one can be as crucial as the maintenance task itself. Luckily for you, our pool experts are here to help. With years of pool owning experience, we're going to break down each type of pool cleaner and which one is for you in 2023.
Types of Pool Vacuums
There are three main types of pool vacuums, each with its unique set of features: Robotic pool cleaners, pressure-side and suction-side cleaners, and manual handheld pool vacuums. All of these pool cleaners vacuum your pool, but vacuums are more efficient and effective than others. While some are more automated than others, there is a solution for every pool.
Automatic Robotic Pool Cleaners
Robotic pool cleaners are by far the easiest solution to vacuuming your pool. They require minimal effort and boast advanced features that help keep your pool clean. While more expensive than some of the other options, a pool robot is well worth the investment.
Robotic pool cleaners can clean and vacuum your entire pool - including the pool floor, walls, and waterline. With Dual or even Triple DC motors, these cleaners can vacuum at over 4500 GPH and filter your pool water at the same time through NanoFiltration. These cleaners take a load off your shoulder, as they make pool cleaning so much easier. Many pool owners make the switch to a robotic pool cleaner after owning a pressure-side or suction-side cleaner, as they are easier to clean and maintain, as well as cheaper to operate.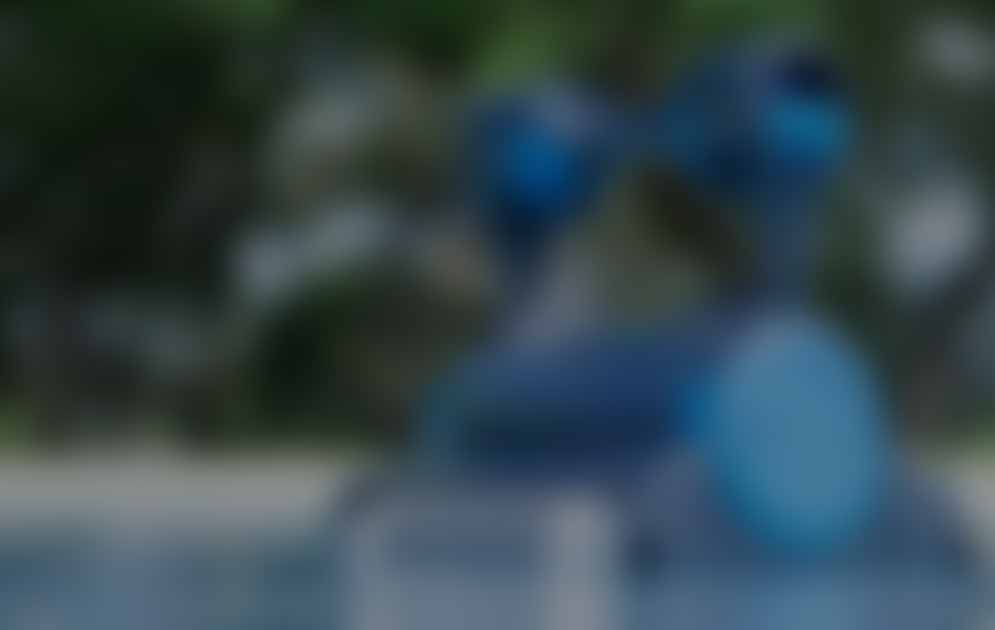 Pool robots are plug and play. No booster pump, assembly, or setup. It's as easy as plugging the robot into the outlet and the robot will automatically vacuum your pool. These cleaners can run on set schedules and are extremely easy to use. They can run at different frequencies, from once a day to twice a week, and simple as dumping out the vacuumed debris once a week. Setup takes less than 3 minutes and you can have a fully automatic robotic pool vacuum in your pool.
Pressure-Side and Suction-Side Cleaners
Next, there are pressure-side cleaners and suction-side cleaners. Invented back in 1965, pressure-side cleaners have been around for decades. Later replaced by the more modern robotic pool cleaners, however these pool vacuums still exist today in a lot of pools. In 2023, these traditional pool cleaners are often outdated by the newer automatic robotic pool cleaners.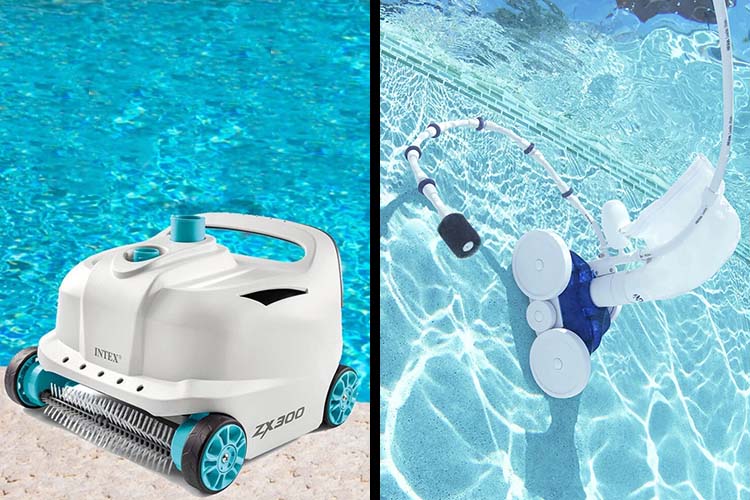 What is a Pressure-Side Pool Cleaner?
Pressure-side cleaners leverage the power of water pressure to pick up debris, but often require a separate booster pump and can not only be a pain to setup, but costly to operate. With multiple parts, such as a booster pump, pool hose, sweep, and bag, they can be a pain to assemble for most pool owners – resulting in some headaches.
What is a Suction-Side Pool Cleaner?
Suction-side vacuums are very similar but connect directly to your pool's filtration system to suck up dirt and debris. These cleaners often have no intelligent navigation and often randomly crawl the pool floor and walls, vacuuming loose dirt, debris, and leaves.
Handheld Pool Vacuum and Brushes
The famous pool brush and vacuum cleaner. These pool cleaners are tried and true. Manually scrubbing your pool can be a pain. With some pool sweeps and vacuums connecting directly to the pool's skimmer, they can vacuum dirt, debris, and leaves right out of the pool. With more modern ones being battery-operated handheld vacuums that simply attach to your pool pole, there has been some innovation in the past few years - which we love to see. Nearly every pool needs a variation of one, but if you're relying on them to consistently clean your pool, there are better solutions to pool cleaning - as now the vacuum and scrubbing processed can be automated through a robotic pool cleaner.
Best Robotic Pool Cleaners
The most popular brand of pool robots is by far Maytronics' brand, Dolphin. There are some other options, such as Blue Helix, but none have the years and brand-recognition behind them like Dolphin does. With a variety of product lines to choose from, it can get confusing. Nearly all of the best robotic pool cleaners include Waterline Cleaning, NanoFilters, and No Restocking Fee.
NanoFilters allow a robotic pool cleaner to clean deeper than other pool vacuum alternatives. Not all robotic pool cleaners include NanoFilters however, as it is only found on Gen-2 Maytronics Dolphin cleaners. These micropleated filters allow the robot to not only vacuum up debris, but actively filter your pool's water. In our Pool Robot Guide, we cover everything you need to know about NanoFilters, Waterline Cleaning, and more. So that you can automate your pool cleaning routine.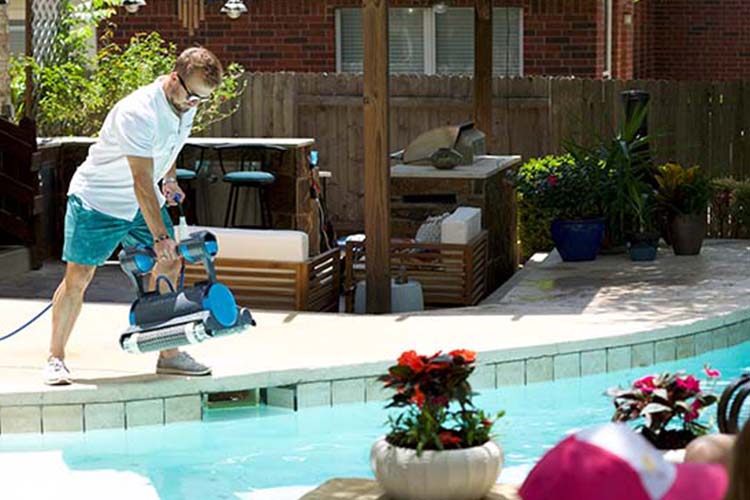 So let's break down some of our pool expert's favorites that they have tested and reviewed:
Dolphin Premier
The Dolphin Premier robotic pool cleaner is highly regarded for its ability to handle various types of debris, particularly leaves, making it ideal for pools situated with lots of leaves. Thanks to its exclusive Multi-Media™. This ProLine™ cleaner is one of the best Dolphin pool cleaners. USA Today gave Premier the 2023 award for Best Overall Robotic Pool Cleaner, and it's easy to see why. It's the only Dolphin model equipped with a leaf bag, catering specifically to this need. The Premier features advanced SmartNav 2.0 navigation algorithms for comprehensive pool coverage and has dual scrubbing brushes that tackle tough dirt, ensuring a thorough clean within three hours​​.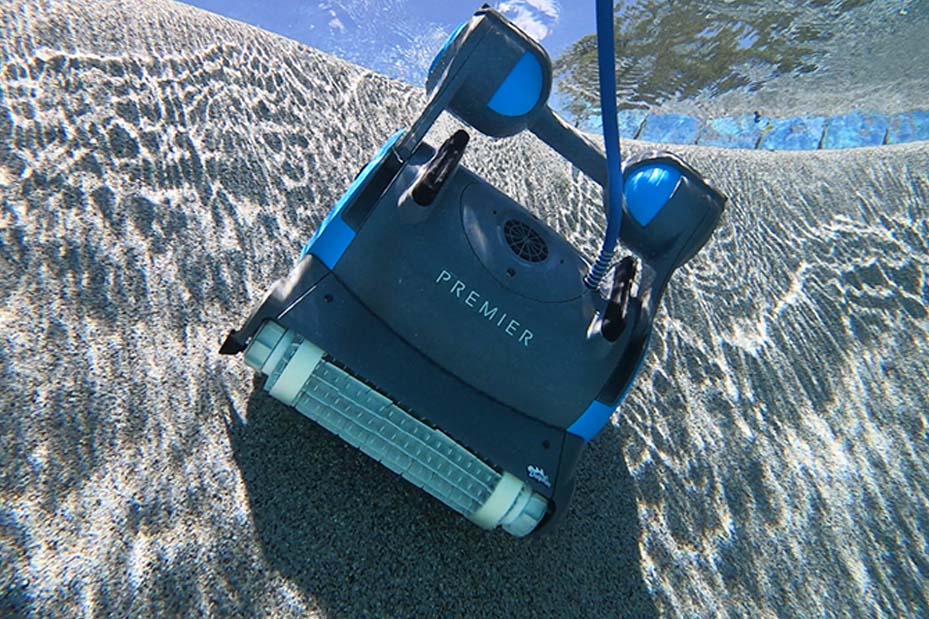 Additionally, its Multi-Media™ Filtration system offers multiple filter options, including NanoFilters, oversized leaf bag for larger debris​, and the standard filters​. Perfect for leaves, the leaf bag can handle all of the leaves and twigs vacuumed. With the largest filtration system out of all Dolphin pool cleaners, it is no wonder why the Dolphin Premier is the flagship Dolphin pool cleaner.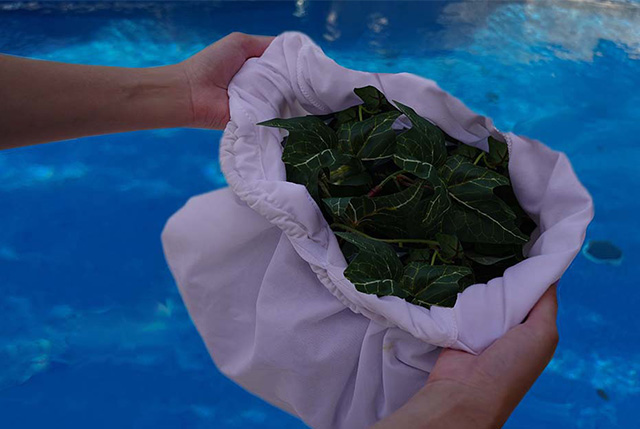 Users also benefit from its weekly scheduler and Media-Alert™ Real-Time Filter tracking system that notifies when filter cleaning is needed. Built on Dolphin ProLine's commercial-grade motors, the Premier promises power and efficiency, backed by a 3-year warranty​​ and No Restocking Fee when you buy from an Authorized Dolphin Dealer.
Dolphin Quantum
The Dolphin Quantum stands out with its ease of use and lightweight design, featuring a programmable weekly scheduler that automates cleaning tasks. It's equipped with PowerStream mobility, which ensures constant contact with pool surfaces for rigorous wall and waterline scrubbing. Its XXL MaxBin is Dolphin's largest filter, 225% larger than previous generations, making it highly capable of trapping substantial debris.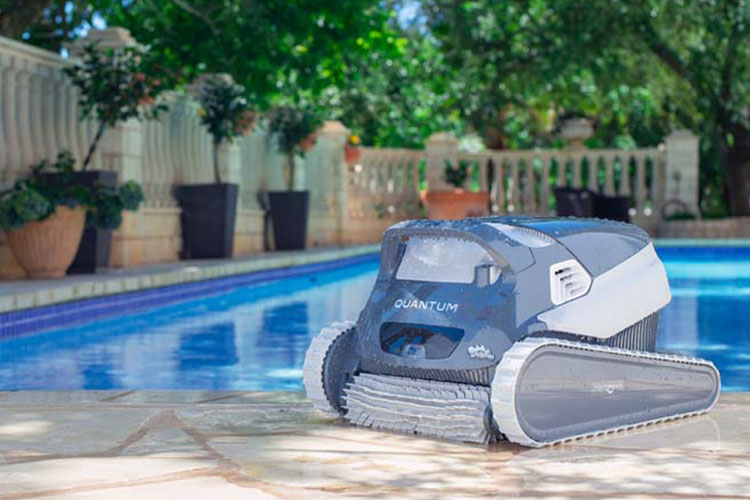 It's also energy-efficient, requiring no hoses or booster pump, and is backed by a 2-year warranty​​. The Quantum's advanced ProLine waterline cleaning, anti-tangle swivel, and inclusion of both NanoFilters and standard filters make it a formidable cleaning machine, praised for its user experience and coverage​​.
Dolphin Sigma
The Dolphin Sigma robotic pool cleaner is described as the most advanced model tested, featuring a gyroscope, NanoFilters, and the myDolphin Plus smartphone app for enhanced functionality. It boasts powerful dual scrubbing brushes built on commercial-grade motors, ensuring it removes the most stubborn contaminants in just 2.5 hours. The Sigma's SmartNav 3.0 technology optimizes its route for efficient cleaning without hindrance from obstacles. It's capable of running on a customizable schedule and is one of Dolphin's top robotic pool cleaners, ideal for both in-ground and above-ground pools, with a 3-year warranty for peace of mind​​. With the highest ratings in waterline cleaning, pool coverage, and user experience, the Sigma includes more features, filters, and power than previous models, making it Dolphin's best pool robot to date​​.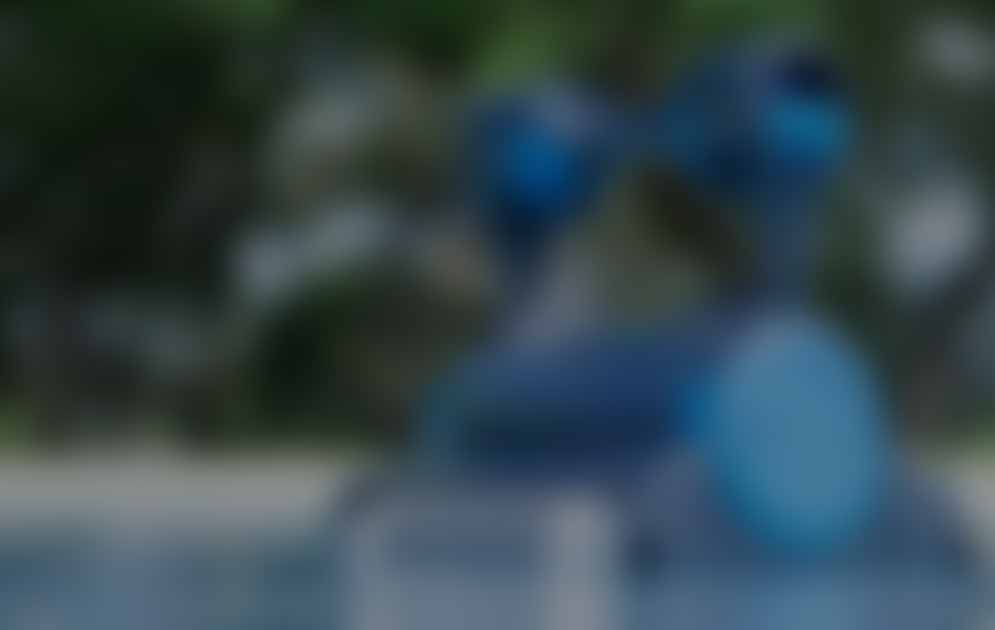 In comparison to other automatic pool robots, these Dolphin models stand out for their advanced navigation systems, powerful motors, and diverse filtration options. The inclusion of features like a leaf bag in the Premier, the Quantum's MaxBin, and the Sigma's gyroscope technology, showcase their unique abilities to address various pool cleaning challenges. These features, combined with their user-friendly design and energy efficiency, solidify their position as some of the best automatic pool robots available.
Dolphin Cayman
The Dolphin Cayman robotic pool cleaner is recognized for its outstanding value, offering high-end features without the premium price tag. It's part of the Max-Series, which is known for its MaxBin™ collection system, wall-climbing capabilities, and NanoFiltration taken from the Dolphin ProLine™, a set of features rarely seen in cleaners at its price point. The Cayman's design is centered around functionality, with a focus on thorough vacuuming, scrubbing, and user-friendly operation.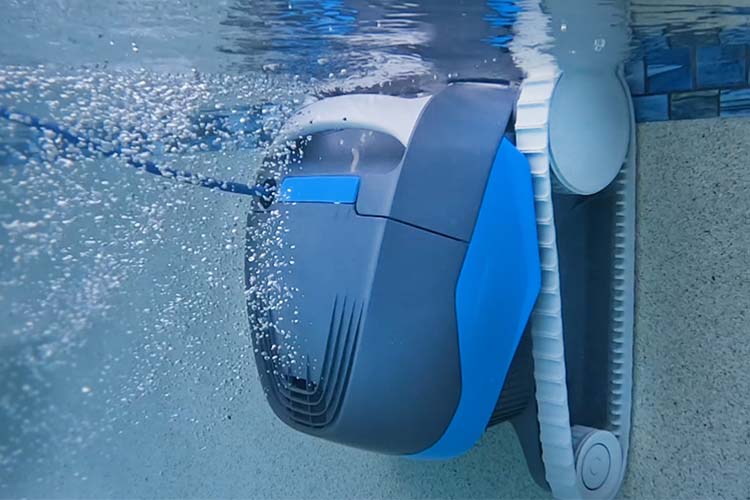 Equipped with a programmable weekly timer and capable of climbing walls, the Cayman addresses the main areas of pool cleaning that matter most to pool owners. Its MaxBin is designed for easy debris disposal, and combined with NanoFiltration, it ensures a clean and debris-free pool environment. The Cayman handles a variety of debris, such as leaves, twigs, and more, thanks to its MaxBin and vacumming ability. While it may not have the waterline cleaning capabilities or commercial-grade motors of some of its more expensive counterparts, as seen in the ProLine™, but the Cayman makes no compromises where it counts.
The Dolphin Cayman's cleaning efficiency is noted to surpass first-generation cleaners, as it is a Gen-2 Dolphin pool robot, making it a popular choice. It is a model that promises and delivers essential cleaning functions with the added convenience of advanced filtration and debris collection, earning it high marks for value and performance among automatic pool cleaners.
Dolphin Escape
The Dolphin Escape stands out as the optimal choice for above-ground pools. Built upon the same Max-Series platform as the Cayman, it boasts a MaxBin and NanoFiltration system that provides robust vacuum power for cleaning the pool floor. The Escape is specifically designed for above-ground pools, and while its cleaning is confined to the floor, it does so with an effectiveness that rivals many in-ground models.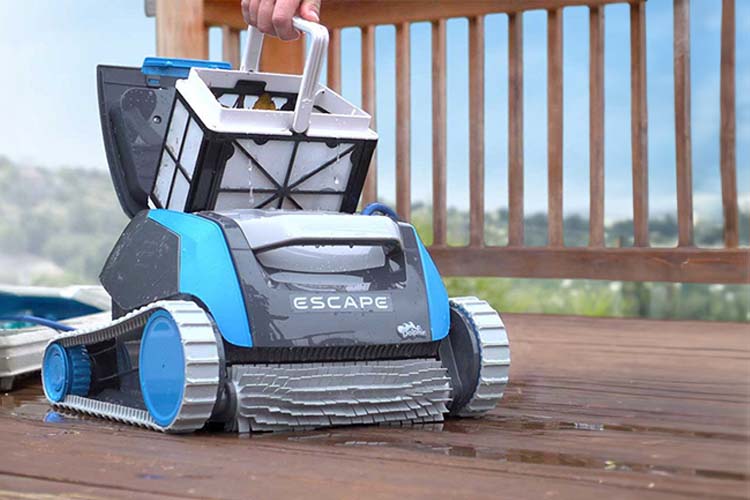 What sets the Escape apart is its HyperGrip tracks, which enable the robot to maintain contact with the pool floor, ensuring no spot is missed. The HyperBrush feature actively scrubs the pool's surface at twice the speed of the unit, allowing the Escape to effectively remove all types of debris in its path. This feature is particularly beneficial for above-ground pools, where other cleaners might struggle.
The Dolphin Escape has been extensively tested and has received glowing reviews from pool experts, who cite its efficient cleaning capabilities and ease of use as major advantages. Its ability to deliver a clean pool floor without the need for manual scrubbing or intervention makes the Dolphin Escape the go-to robot for those with above-ground pools, providing both convenience and reliability.
Best Pressure-Side Cleaners
While the best pressure-side cleaners are outperformed by modern robotic pool cleaners, here are some of our pool expert's top picks. These brands and cleaners have been around for years, so they are solid picks. Many of our pool experts used these cleaners before modern-day robotic pool cleaners came out. The benefits of a pressure-side cleaner against a robotic pool cleaner are slim. The only real benefit is price, as they retail for a lower price, but will be more costly to operate under an additional booster pump and electric expenses. However, here are our top picks for pressure-side cleaners:
Polaris Vac-Sweep 280
An essential pool product from years ago, the Polaris Vac-Sweep was a staple in the swimming pool industry for years. The Polaris Vac-Sweep 280 is designed for in-ground pools, offering efficient cleaning of both the pool floor and walls with its single-chamber filter bag and two jets for faster cleaning. The additional sweep hose tail assists in cleaning corners and the single chamber debris bag captures large rubbish like acorns and leaves​​.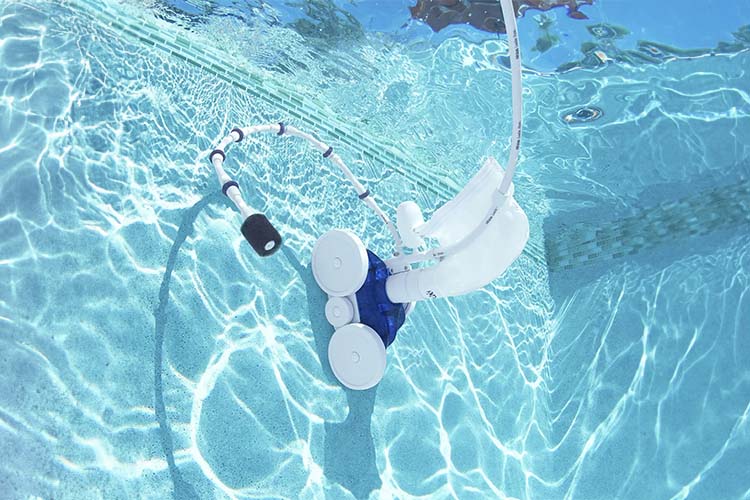 The Polaris 280 is straightforward and dependable cleaner once fine-tuned to the pool's specific needs. However, setting it up and adjusting it to your swimming pool can be a major pain. The adjustment of flow and setup can be a major hassle. The sweep hose can inadvertently spray water outside the pool, which isn't a big deal, but is annoying when using the it.
Lastly, this model requires a separate booster pump which costs at least an additional $200+. What looks like a great value at first soon adds up, leading you to pay more for dated tech that simply doesn't clean as well as other alternatives.
Polaris Vac-Sweep 360
The Polaris Vac-Sweep 360 improves upon the 280 with three jets for increased cleaning power and the significant advantage of operating without a booster pump, setting it apart from its predecessor. The all-wheel drive mechanism provides better traction and cleaning efficiency across the pool surfaces​​.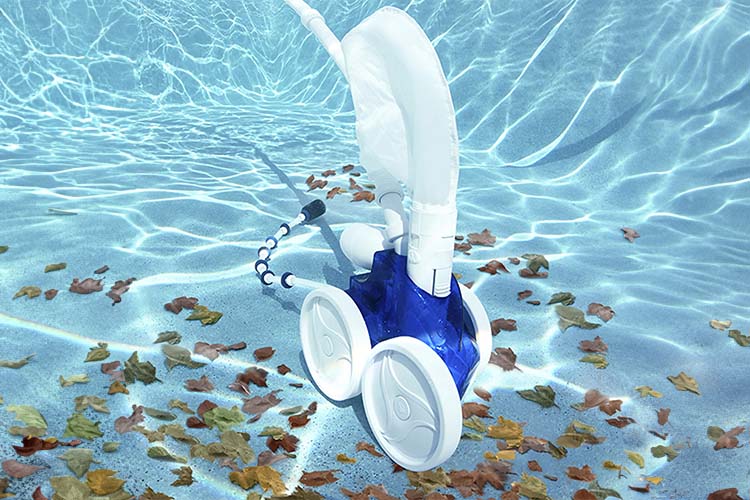 The 360 model shares the same robust build and reliability as the 280, ensuring that it cleans effectively and withstands the test of time. The lack of a booster pump requirement for the 360 model also means it may be less costly and simpler to install, as there's no additional pump equipment needed as it utilizes the existing pool pump. This sounds great, but you have to make sure the pool pump in your pool is powerful enough for it to work properly in your swimming pool.
Despite these advantages, the Vac-Sweep 360 shares common challenges with other pressure-side cleaners, such as potential issues with navigating around obstacles like stairs or corners. The upgraded Polaris Vac-Sweep 360 is a great choice if you want to keep a pressure-side cleaner in your pool, but like its predecessor, is still dated pool technology that needs an upgrade.
Best Suction-Side Cleaners
Hayward PoolVac XL Suction-Side Pool Vacuum
The Hayward Suction-Side Pool Vacuum is known for its exceptional cleaning capabilities in the suction-side cleaner world. It is easier to use than other vacuums, as no booster pump is needed. This makes it a great solution for pool owners wanting a suction-side cleaner, but not wanting to deal with a pesky booster pump.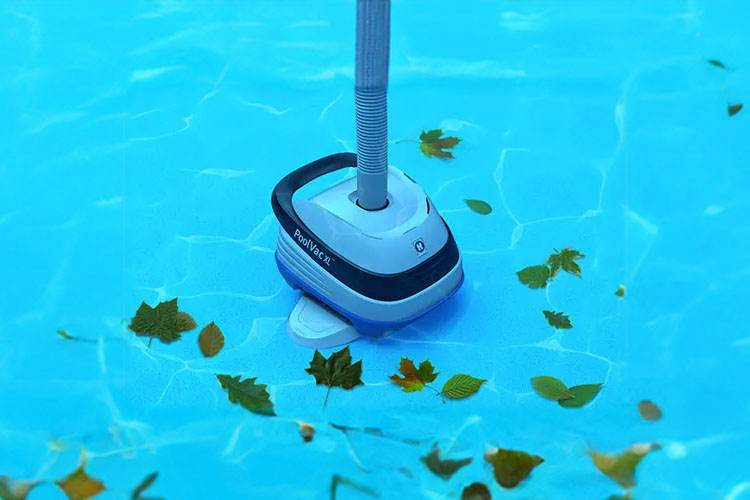 However, the two-wheel of the Hayward limits its cleaning performance,particularly with climbing walls, which can be a concern for those with deeper pools. Our experts found in their testing that the struggle was real - as it failed to consistently climb and clean like we have seen in other vacuums. And without an onboard filter, you'll need to buy the canister filter separately, which is an extra step and additional cost to consider.
Despite these issues, the Hayward is ideal for those with large in-ground pools, especially when opting for the four-wheel model. It offers comprehensive coverage and ensures that the pool is cleaned efficiently, which can save time and effort in pool maintenance routines. But, when compared to a pool robot, we found it to be subpar in comparison as the tech is simply dated.
Zodiac MX6 Automatic Suction-Side Cleaner
Powerful, yet compact, the Zodiac MX6 is great for small to mid-sized pools. Zodiac is a brand name in the pool industry and is backed by a history of durable and reliable products, and the MX6 lives up to this reputation. The ease of setup is a highlight, thanks to the quick-connect hoses and a design that minimizes the likelihood of tangling, which can be a significant inconvenience with other suction-side cleaners.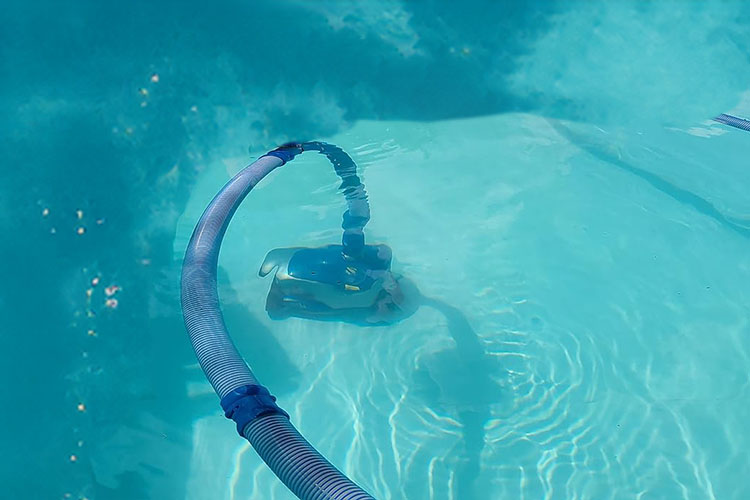 Its powerful suction capability ensures that nearly all types of debris are effectively removed from the pool. Moreover, the cleaner's ability to scale walls and move over obstacles is enhanced by its tank-like treads, which provide better traction than wheels.
On the downside, the MX6 may occasionally get stuck on ladders or corners, although it typically resolves this issue autonomously. The hoses, while efficient, have been reported to be prone to damage at the connectors, which can be costly to replace. Additionally, the MX6 is optimized for fine to medium-sized debris and may struggle with larger debris and low pump speeds, which could be limiting for some users.
Intex ZX300 Pressure-Side Above-Ground Cleaner
Intex's Pressure-Side Above-Ground Cleaner is an affordable and low-maintenance option designed specifically for Intex above-ground pools. Its simplicity and cost-effectiveness make it an attractive choice for above-ground pool owners who are looking for a hassle-free cleaning solution. The inclusion of a convenient carry handle and a tangle-free hose underscores the product's focus on user convenience.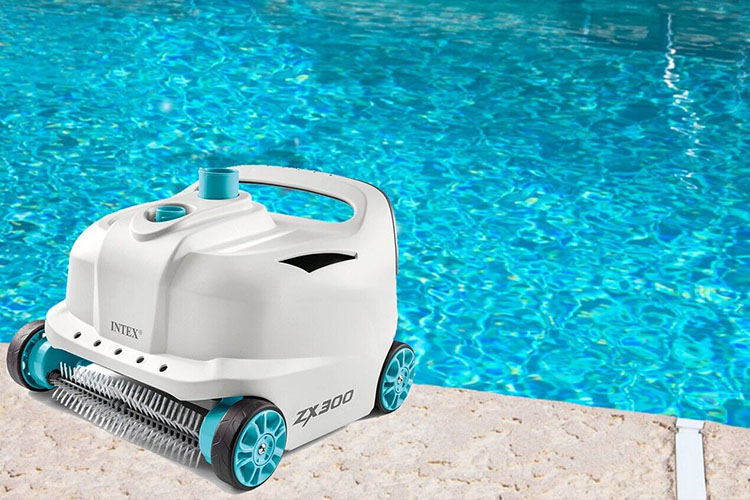 It cleaned well in our testing and is a good solution if you're on a budget. Above-Ground pool robots still performed better when it comes to scrubbing and vacuuming a pool. With an easier setup, you may want to consider looking at the Dolphin Escape or even Dolphin Cayman.
However, the cleaner's performance is not without its faults. It has been noted to struggle with cleaning corners thoroughly. To ensure optimal performance, some users have recommended applying lithium grease to the gears, which suggests that there might be additional maintenance steps required to keep the cleaner functioning properly. Despite this, the Intex cleaner remains a solid choice for those with compatible pools, offering good value for its price.
Best Handheld Pool Vacuum
Pool Blaster Max Cordless Pool Vacuum
The Pool Blaster Max Cordless Pool Vacuum is a user-friendly cleaning device designed to simplify pool maintenance. Unlike the a vacuum head where you still need to attach a hose to it, the Pool Blaster is standalone. It stands out for its cordless design, making it easy to use without dealing with cords and hoses. Users have praised its powerful suction, capable of picking up various debris types, and the rechargeable battery that provides ample runtime for small to medium-sized pools. However, it may struggle with heavier debris and larger pools, and the battery life was a little disappointing in our testing - as it ran out in our pool.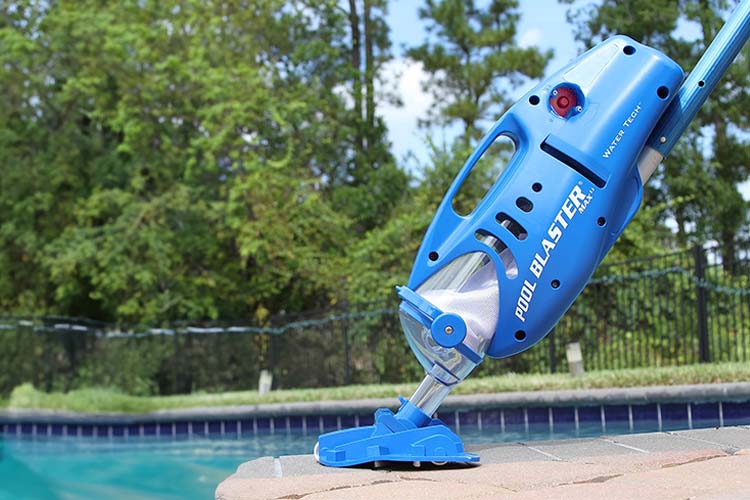 However, the Pool Blaster is a solution for quick spot cleans, just not long-term pool maintenance. The vacuuming power was weaker than some of the other alternatives such as robotic pool cleaner, but that can be expected due to its price. Overall, it does the job if you need a quick spot clean but don't expect it to be a solution long-term.