Breaking down the best in-ground robotic pool cleaners, our pool experts will dive into the top pool robots and help you find the right cleaner for every type of in-ground pool, best overall, and more.
Best In-Ground Pool Robots
The best in-ground robotic pool cleaners have 3 main things you'll want for an in-ground pool. Whether you have a gunite, fiberglass, or tile swimming pool, these features help unlock the best clean possible for your swimming pool.
NanoFiltration™: These new Gen-2 filters were introduced in select 2023 Dolphin models. Found in both the Dolphin ProLine™ and Dolphin Max-Series™, NanoFilters clean microscopic debris that will pass through the plastic mesh filters in other pool robots.
Waterline Cleaning: The dirtest part of your pool is the waterline - where the water meets the surface in your pool. Over 90% of all bacteria and algae in your swimming pool, so why would you get a cleaner that will miss this problematic area?
Weekly Timer: A weekly timer puts the automatic in "automatic pool cleaner". With a programmable weekly timer, you can schedule your robot to run and clean daily - without touching a thing. A timer is a must-have for any in-ground pool owner.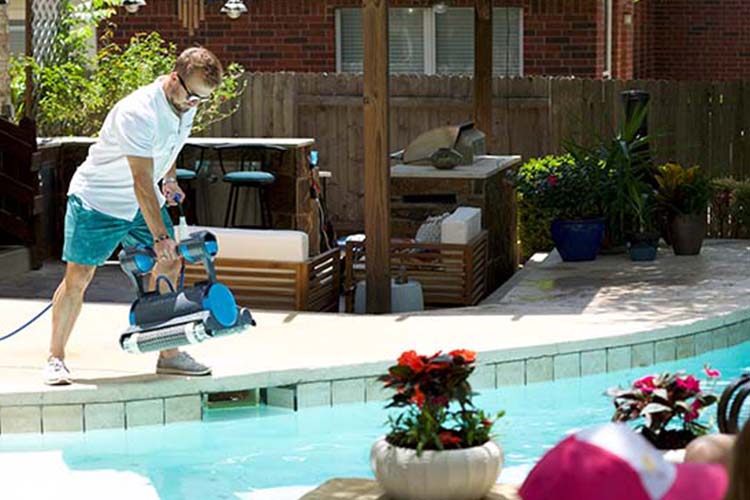 Dolphin Premier
Jumping right into one of Dolphin's best-sellers for 2023, the Dolphin Premier. With a 60ft cord and anti-tangle swivel, the Dolphin Premier is the perfect pool cleaner for any medium to large in-ground swimming pool. Rated the Best Robotic Pool Cleaner by USA Today, the Premier stands out at the top of our list for the best in-ground pool robots.
The 2023 model is equipped with a variety of features that we loved in our testing such as: Multi-Media™, Waterline Cleaning, NanoFiltration™, Oversized Leaf Bag, & Media-Alert™ Real-Time Filter Tracking
Best Robotic Pool Cleaner for Leaves
Have a lot of trees around your pool? Struggle with constant falling leaves keeping your pool dirty? Well, look no further than the Dolphin Premier. With a specifically designed Oversized Leaf Bag, the Dolphin Premier is the best pool robot for leaves, twigs, and even acorns.
Apart of the Dolphin Quantum, the Premier is equipped with dual commercial-grade motors, Multi-Media™, and NanoFilters™. The Premier stands out with an increased performance over the rest of Maytronics' lineup. With included NanoFilters and Leaf Bag, you can swap between filters in just seconds – allowing a fully customizable clean.
With Media-Alert, the Premier has real time filter tracking. Premier's timer will flash when it's time to clean so that you don't have to guess. With Premier's programmable timer, you can schedule the Premier to clean every day – so that you can experience truly a hands-off automatic pool cleaner.
Best Pool Robot for Fiberglass Pools
The best robotic pool cleaner for an in-ground fiberglass pool is the Dolphin Premier. Why? With SmartNav 2.0™, Premier can map and clean your pool with an onboard microprocessor. Rather than old suction-side and pressure-side pool cleaners that would aimlessly wonder your pool, the Premier can clean your entire pool – no matter what shape it is.
Best Filtration System
It's no secret that a pool robot acts as a secondary pool filter if equipped with the right filters. By vacuuming and filtering over 4500 GPH, the Premier can take a large load of your pool filter. With included Multi-Media™, the Dolphin Premier has the best filtration system out of any pool robot. With included NanoFilters and an oversized leaf bag, no robot cleans with as much power and customizability as the Dolphin Premier.
Dolphin Sigma
Ranked as the Best Dolphin In-Ground Pool Cleaners for 2023 by our pool experts, the Dolphin Sigma is a fan-favorite. Being the most advanced Dolphin pool robot ever made, this ProLine™ model stands out at the top of the Dolphin line. Equipped with a gyroscope, NanoFilters, Wi-Fi, myDolphin Plus app, and a Triple Commercial-Grade Motor design, the Sigma is a great choice for medium to large-sized in-ground pools.
Best Overall Pool Robot for 2023
Our #1 overall pick for the best robotic pool cleaner for 2023, the Sigma's user-friendly features, included NanoFilters, and Triple Commercial-Grade motors provide a next-level clean for the swimming pool. The game-changing gyroscope is a welcomed addition to the pool robot world – as we know many future models will also incorporate it to increase the performance just like the Sigma.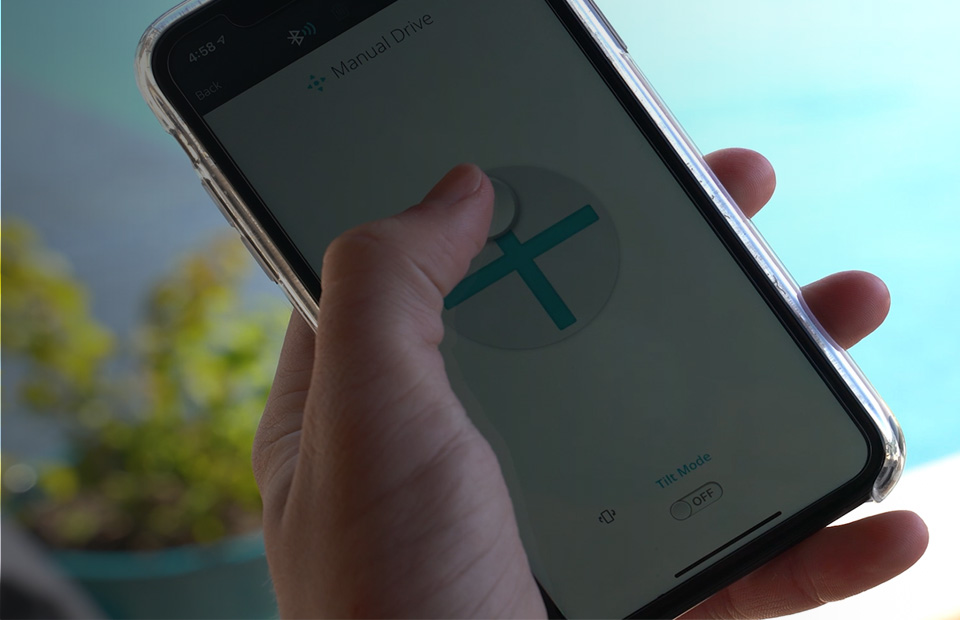 Control the robot via the myDolphin Plus app. From there, you will have advanced weekly timer, remote control, pool histroy, and even voice control. It's as simple as "Hey Siri, start cleaning my pool" and the Dolphin Sigma will start vacuuming your pool. With the remote control feature, you can direct drive the robot to clean any area of the pool - including the waterline. And lastly, the weekly timer allows even more control as you can set the exact day and time you want Sigma to run. Want to clean 5pm on Tuesday and 8am on Saturday? No problem. There is no job too big for the Dolphin Sigma.
Best Pool Robot for Gunite Pools
Built for larger to medium-sized pools, the Dolphin Sigma is no doubt the best choice for gunite swimming pools. Since gunite pools can come in so many forms, the Sigma's advanced SmartNav 3.0™ and split brushes allow it to clean with pinpoint accuracy.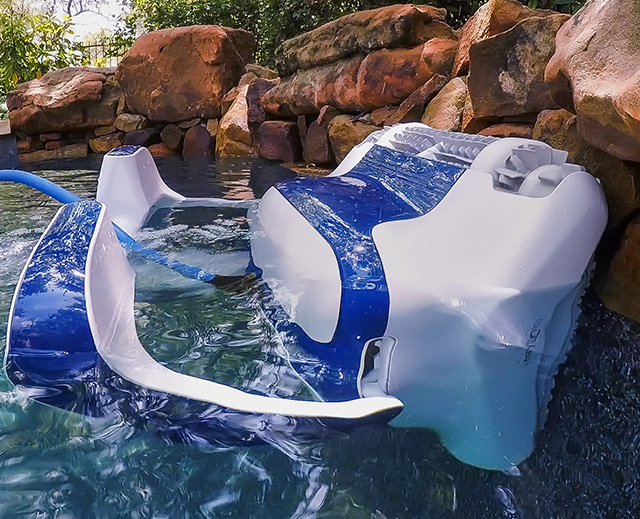 Able to climb all the way up to the waterline and even up rocks on the side of the pool, the Sigma impressed our pool experts in the gunite test pool. Being able to clean the freeform swimming pool, it was able to effortlessly navigate and vacuum everything with the included NanoFilters™
Best Splurge
By far the best splurge if you want the best of the best, the only real downside is the initial investment into Sigma. While it isn't the most expensive model from Maytronics, it's not cheap. However, the warranty is 50% longer than standard Dolphin models at 3 years. Once you factor in the increased cleaning performance, NanoFilters™, and 3 year warranty, the Sigma quite frankly still a great value – especially for the best cleaner on the market. But if you want a value alternative, check out our next pick...
Blue Helix One
A newcomer on our list, the Blue Helix One is mighty impressive. This new and upcoming robot sets the market for what a robotic pool cleaner should be. With more features at a lower price, it is a great alternative to some of the other robots on our list without settling.
Best Robot Under $1000
What if I told you there is a robot with waterline cleaning, dual filter baskets, a smartphone app, and three motors for under $1000? Well, there is. With a performance that matches the Dolphin Quantum, you really cannot get much better than this. The power, performance, and filtration are all there. Our only big gripe is the robot only includes the mesh filters and doesn't have any NanoFiltration.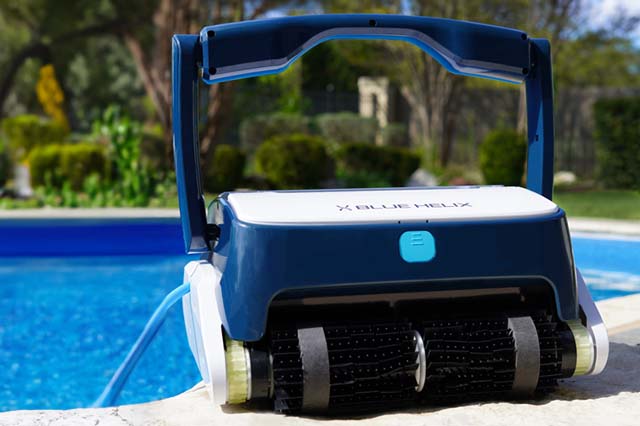 Most Innovative
With Focus Mode™, select the area in your pool which you want to target. For the first time ever, you can select whether you want to clean just your pools floors or waterline. You can even place an emphasis on the waterline, while still covering the floors. We found it exremely impressive in our testing, as it attacked the waterlines in Focus Waterline Mode. Leading us to give the Blue Helix One the award for being the most innovative pool robot of 2023.
Dolphin Cayman
Best Pool Robot for In-Ground Vinyl Pools
With the Max-Series™'s HyperBrush Scrubbing and MaxBin™, the Dolphin Cayman is a great choice for vinyl in-ground swimming pools. With a vinyl safe scrubbing brush, the Cayman spins 2 times faster than standard Dolphin robots. This allows the Cayman to dislodge algae, debris, and bacteria stuck in your inground pool without breaking out the pool brush. Simply set Cayman to run daily on its weekly timer and relax. Let the Cayman climb, clean, scrub, and vacuum your pool - all while you sit back and relax.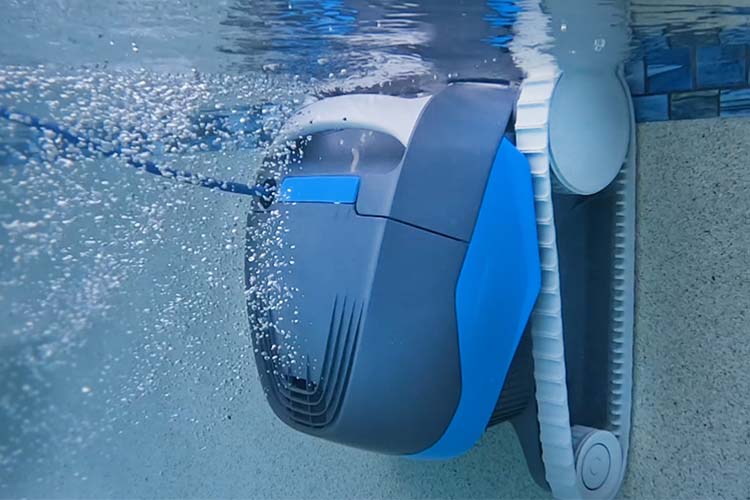 Best Robotic Pool Cleaner for Small In-Ground Pools
The Dolphin Cayman can clean pools up to 50ft long. It is a great budget-friendly option for any smaller in-ground swimming pool. While it doesn't have all the bells and whistles you may find on other top pool cleaners like waterline cleaning or a swivel, the Cayman makes up for it where it matters - the filter.
With an easy-to-clean MaxBin™, the Dolphin Cayman is not only super easy to clean - but great at vacuuming debris out of your pool. With a quick NanoFilter™ upgrade (not included but avaliable and free with purchase at Poolbots.com currently), your Dolphin Cayman can unlock its full potential.
Best Deal
Here at Poolbots, we love deals. We firmly believe this is the best deal on our list. With a programmable timer, MaxBin™, Wall Climbing, and optional NanoFiltration™, you cannot get a better clean for the price. Being the most affordable robot on this list, we are sure you'll love it and is one of our top choices for 2023.
Dolphin Quantum
Best Robotic Pool Cleaner for Tile Pools
Built for all types of in-ground pools, the Dolphin Quantum is our top-pick for tile pools. Thanks to its HyperBrush, the brush spins 2-times the speed of a standard brush. This allows the Quantum to dislodge stuck on debris and algae, vacuuming it into its XXL MaxBin™. With an impressive 4000 GPH suction power, the Quantum can pickup leaves, algae, and even acorns.
Best Pool Robot with a Filter Basket
The Quantum's XXL MaxBin™ is 225% larger than the standard cartridge filters – at over 400 inch2. Making it the #1 choice if you're looking for a pool robot with a filter bin. The XXL MaxBin™, that is exclusively in the Dolphin Quantum, is larger than the standard MaxBin™ even – allowing it to hold more leaves, debris, and dirt.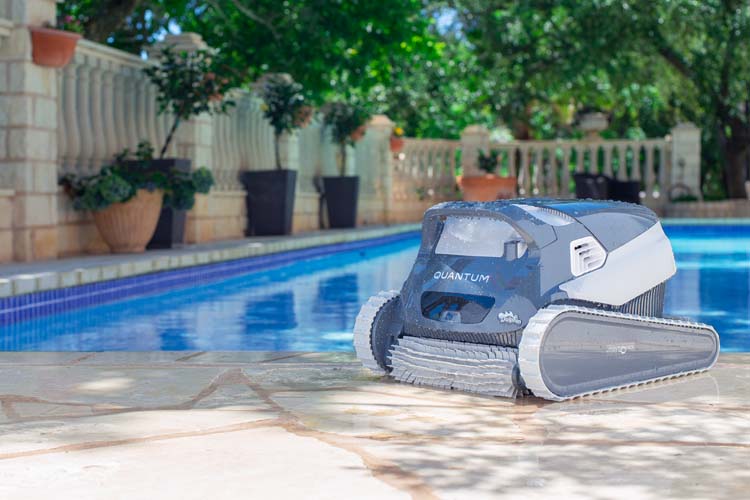 With included NanoFiltration™, you can swap between the standard filter and NanoFilters in just seconds. These Gen-2 filters play a huge role in the increased performance of the ProLine, as it made our lives as pool owners that much easier when testing.
Need Help Finding a Pool Robot?
Need help find a pool robot? Luckily, our pool experts are standing by, ready to provide 1-on-1 support. With years of pool owning experience and expertise, they can help find the perfect pool robot for your swimming pool. Contact us to call, live chat, or email us any questions you may have! We carry a variety of the top brands from Dolphin to Aquabot and have thousands of robots in stock ready to ship!
Conclusion
So there you have It, our top picks for in-ground robotic pool cleaners. We hope we could help narrow down the search for the best pool robot. Make sure to read our pool robot guide for more information on what to look for in a robotic pool cleaner!