As the summer heat approaches, there's nothing quite like taking a refreshing dip in a clean and inviting pool. However, vacuuming and brushing a pool manually can be a real pain. Thankfully, Dolphin advancements in technology have brought us robotic pool cleaners that perform better than ever before.
We will dive into the world of Dolphin robotic pool cleaners and explore the question that every pool owner is asking: "What is the best robotic pool cleaner?"
The engineers at Dolphin have been helping pool owners for 40 years. Dolphin pool cleaners have revolutionized the way we approach pool maintenance. These innovative devices are designed to take the hassle out of pool cleaning, providing a convenient and efficient solution to keeping your pool clean and healthy.
Introduction to Pool Robots
What are pool robots?
Pool robots, also known as robotic pool cleaners, are advanced automated devices designed to clean and maintain swimming pools effortlessly. These intelligent machines utilize cutting-edge technology and intricate algorithms to navigate the pool, scrubbing the walls, floors, and waterline, while simultaneously filtering out debris and contaminants.
Importance of pool robots for pool maintenance
Proper pool maintenance is crucial for ensuring a clean and healthy swimming environment. Traditional pool cleaning methods often require manual labor and can be time-consuming and ineffective. Pool robots eliminate the need for manual labor, providing a hands-off approach to pool cleaning. They efficiently remove dirt, leaves, algae, and other debris, ensuring your pool remains pristine and inviting.
Factors to Consider When Choosing a Dolphin Pool Cleaner
Choosing the best pool robot for your specific swimming pool requires careful consideration of various factors. Let's explore the key factors you should take into account before making a purchase: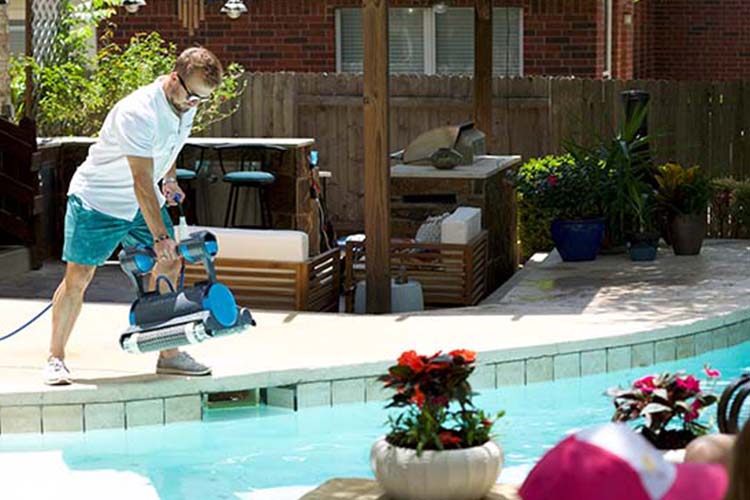 Pool Size and Shape
The size and shape of your pool play a vital role in determining the ideal pool robot for your needs. Some robots are better suited for small above ground swimming pools, while others are specifically designed for larger in-ground swimming pools. It is important to choose a robot that can effectively cover the entire surface area of your pool, ensuring thorough cleaning.
Pool Surface Type
Different pool robots are designed to work optimally on specific pool surface types, such as concrete, vinyl, or fiberglass. It is crucial to select a robot that is compatible with your pool's surface to avoid any potential damage or inefficient cleaning.
Filtration System
A high-quality filtration system is essential for effective cleaning. What the robotic pool cleaner companies don't tell you is that the standard filters included with most pool robots cannot capture tiny debris, leaving you it inside your pool. So make sure to look for NanoFilters.
NanoFilters are Gen 2 Filters capable of trapping even the smallest particles, such as pollen or bacteria. Combine with larger filters or even a MaxBin, the filtration included in a robotic pool cleaner is gamechanging.
Dolphin's MaxBin™ is the easiest filter to clean. Combine with NanoFiltration to unlock an even deeper clean, MaxBin is found on Dolphin Max-Series robots. Developed by Dolphin Engineers, the MaxBin can be cleaned in just sections with a single snap - rather than fumbling around with the older Gen 1 filters.
What Features Should I look for?
As outlined in our Pool Robot Guide, our pool experts want to help cut through the clutter and let you know what is important when looking for the best robotic pool cleaner. So here are 10 features you'll want in your pool robot:
Importance of NanoFilters™: NanoFilters™ represent a second-generation filter technology for pool robots, capturing fine dirt and debris that standard filters miss. They significantly improve water quality by preventing contaminants like pollen, algae, and bacteria from recirculating in the pool, addressing turbidity issues and enhancing transparency.

Waterline Scrubbing: Pool robots with the ability to clean the waterline play a crucial role in eliminating bacteria, algae, and biofilm. They ensure comprehensive pool cleaning, addressing not just the pool floor but also the upper part of the walls and scum line, leading to a cleaner and healthier pool.

Consider Robot Color: The color of your pool robot can impact its performance. Black-colored robots have been reported to leave scuff marks on certain pool surfaces, making it advisable to choose colors like grey, blue, or white to avoid potential damage.

Warranty Matters: When investing in a pool robot, a longer warranty period, such as a full three years, provides peace of mind. It ensures that your robotic cleaner will continue to work effectively in the harsh pool environment, making it a wise choice over budget machines with shorter warranties.

Beware of Battery-Operated Robots: Battery-operated robotic pool cleaners often lack sufficient suction power due to underpowered batteries and require daily retrieval and charging, defeating the purpose of automation. Corded models with larger, more powerful motors offer more reliable and efficient cleaning.

Suction Power and Motor Size: Motor size directly influences suction power and flow rate in robotic pool cleaners. Higher suction power, typically achieved with larger motors, is essential for efficient cleaning and filtration, particularly in commercial-grade robots like the Dolphin ProLine series.

Anti-Tangle Swivel: A robotic pool cleaner equipped with a 360-degree anti-tangle swivel eliminates the hassle of untangling cords. This feature ensures that the cleaner can move freely without cord tension, improving efficiency.

Automatic Weekly Timer: A smart timer with a weekly scheduling function simplifies pool maintenance by allowing the robot to clean automatically on a set schedule, reducing the need for manual control.

Dual Stabilizers for Wall Cleaning: Dual stabilizers are essential for enabling a pool robot to clean the upper walls and tiles effectively. They provide stability and balance, allowing the robot to remain in position while cleaning the waterline.

Mind the Restocking Fee: When purchasing a pool robot, be aware of potential restocking fees from online retailers. Opt for"No Restocking Fee"options to avoid unexpected costs and ensure a hassle-free shopping experience with confidence in your purchase.
Top Dolphin Pool Cleaner Models
When it comes to finding the best pool robot, it's important to consider the top models available in the market. To help you make an informed decision, we have researched and compiled information on some of the most popular Dolphin robots and their flagship models. Let's explore them in detail:
Dolphin Premier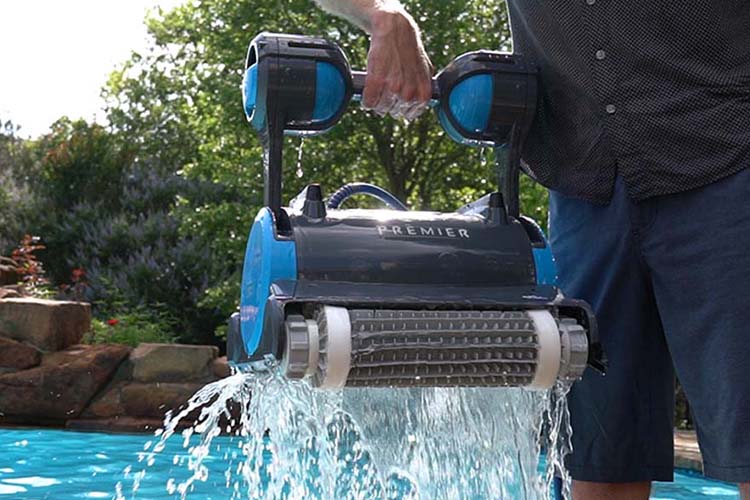 The Dolphin Premier is our top pick for a Dolphin pool cleaner. Rated the Best Pool Robot for 2023 by USA Today, the Dolphin Premier is the top overall choice - not only by us, but from pool experts and pool owners alike.
So makes the Dolphin Premier the best pool robot? The answer is simple: Multi-Media™
No other pool robot includes as many filter options as the Dolphin Premier. From the essential NanoFilter to the exclusive leaf bag, the Premier has more features and value than any other pool robot. If your pool gets a lot of leaves, this is the robot for you. The Dolphin Premier is the only Dolphin with a leaf bag, allowing you to capture and clean more leaves than the standard cartridges.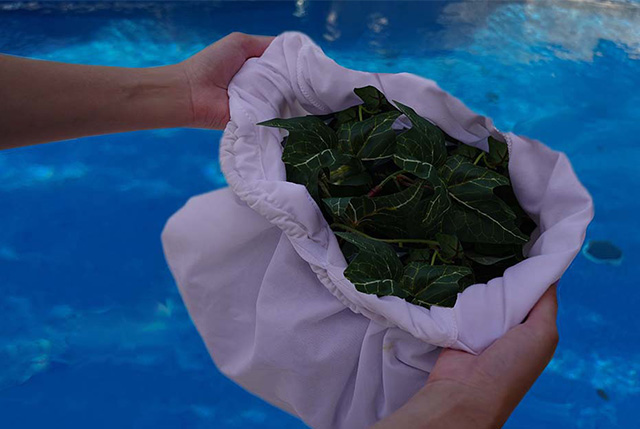 User-friendly, the Premier is one of the only Dolphin robots with Media-Alert. Real time filter tracking alerts you when it is time to clean Premier's filters - this is a feature we use daily and we're glad the Premier has it.
The flagship Dolphin ProLine model is one of the most popular pool robots in 2023 for a reason. With enchanced commercial-grade motors, Multi-Media™, NanoFiltration™, and waterline cleaning, the Dolphin Premier has every essential feature and more – leaving a sparkling clean pool every time.
Dolphin Quantum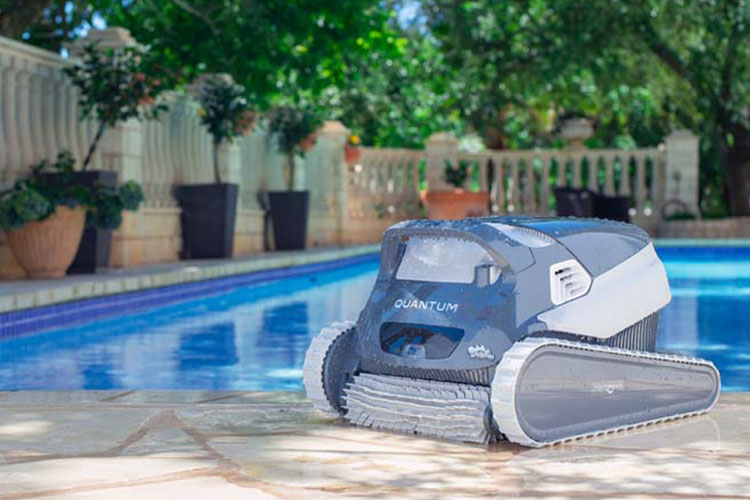 Leading the way, the Dolphin Quantum is a perfect blend of power and user friendliness. It's MaxBin™ is easier to clean than the standard Dolphin filters - as it can be cleaned with one hand and just dumps out. Combine with its included NanoFilters, and then you have one of the best Dolphin pool robots on the market. Equipped with PowerJet 3D Mobility and a HyperBrush, the Dolphin Quantum is a beast at the waterline - ensuring your pool has complete pool coverage and superior filtration.
Dolphin Sigma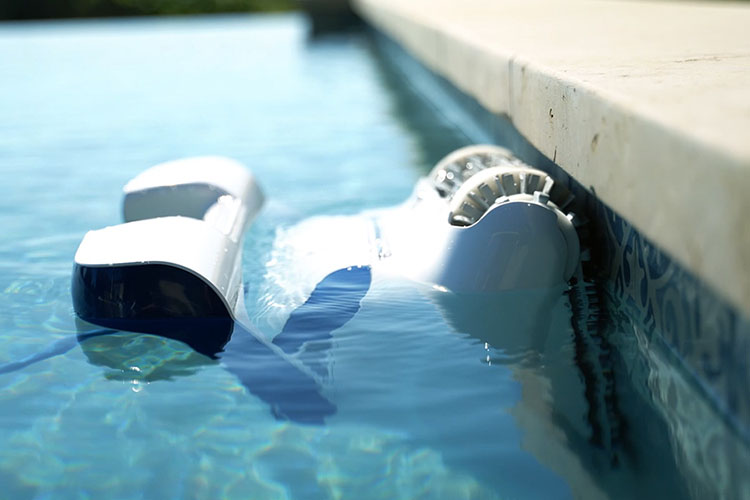 The Dolphin Sigma is the most advanced pool robot in 2023. Powered by a gyroscope and SmartNav 3.0™, the upgraded Sigma boast more power than every before as it utilizes three commercial-grade ProLine™ motors. This gyroscope sends signals to the onboard microprocessor about its orientation and direction in the pool, taking Sigma's cleaning power to a whole new level.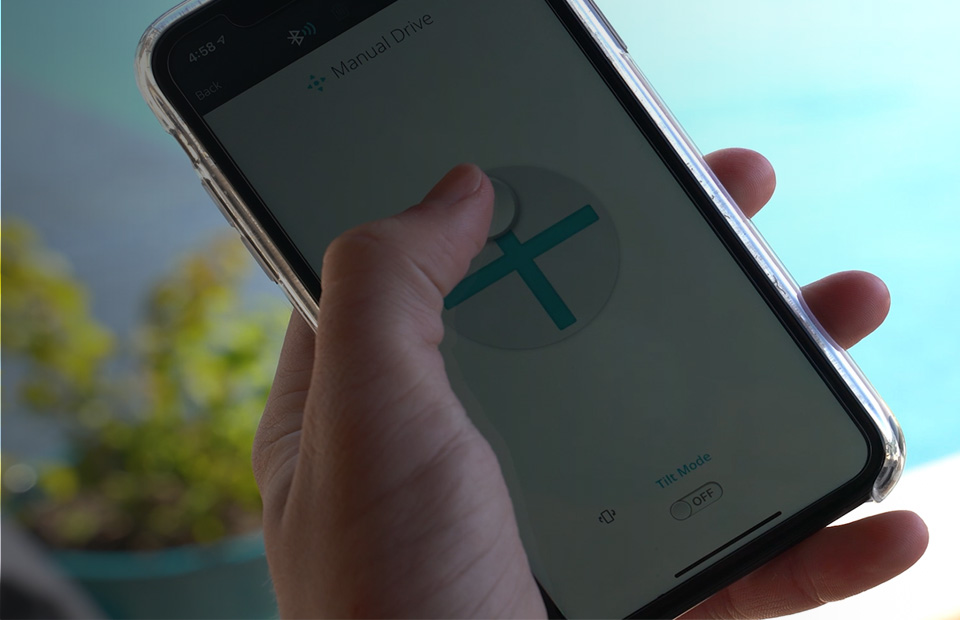 Best Overall Robotic Pool Cleaner
Maytronics' most advanced pool robot ever recieves high praise. Quoting The Pool Nerd, the Dolphin Sigma is the "Dolphin's best robotic pool cleaner yet" in their Dolphin Sigma review.
The innovative tri-motor design continues to impress. Our pool experts even rated the Sigma #1 overall in our best robotic pool cleaners for 2023 and best Dolphin pool robots for in-ground pools lists. In our testing, pool experts were impressed with the outstanding performance as it climbed and vacuumed our test pool with power. Easy-to-use with a great app, the user-experince is A+. Combine with the NanoFilters, it's no wonder why the Dolphin Sigma is so loved.
Honorable Mentions
While not all pool robots can make our list for the best overall pool robots, here are some other great picks if you're looking for an above-ground swimming pool, looking for cordless, or wanting the best bang for your buck in Dolphin pool cleaners.
Best Value Dolphin Pool Robot: Dolphin Cayman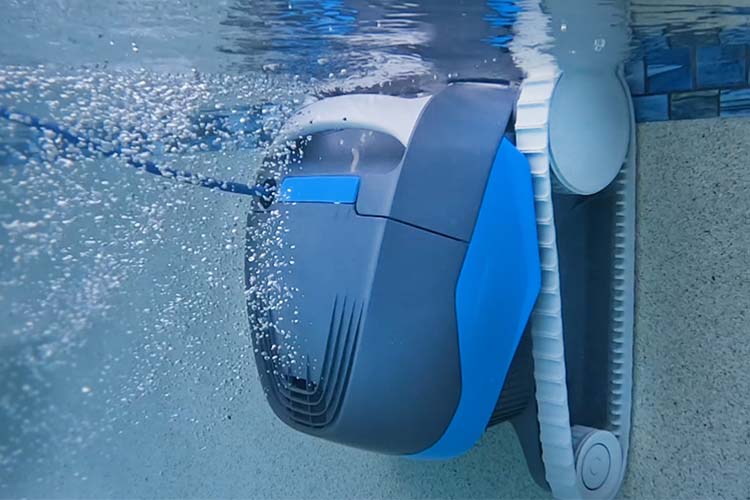 No doubt, the Dolphin Cayman is the best value there is for a robotic pool cleaner. Apart of the Max-Series™, the Dolphin Cayman utilizes the MaxBin, Wall Climbing and NanoFiltration capability, something no other Dolphin robot under $1000 can say.
With a programmable weekly timer, wall climbing, and a MaxBin, the Cayman has all the essentials any pool needs. It's extraordinary cleaning ability beats out the Gen 1 cleaners and is a great choice in 2023. While you do give up waterline cleaning and commercial grade motors, the Cayman makes up for it with its MaxBin and NanoFiltration. That's why our Pool Experts rated the Dolphin Cayman the best value Dolphin pool robot.
Best Dolphin for Above-Ground Pool: Dolphin Escape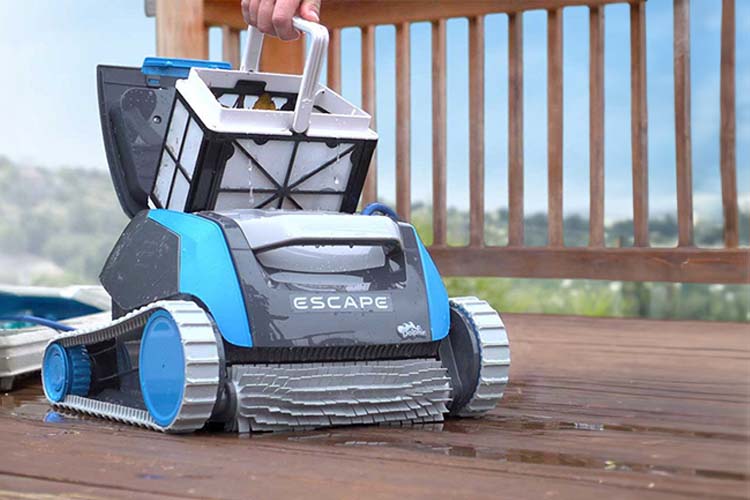 If you have an above-ground pool, look no further than the Dolphin Escape. Built on the Max-Series™ platform, the Dolphin Escape is the best Dolphin pool robot for above-ground pools. Equipped with a MaxBin and NanoFiltration capability just like the Dolphin Cayman, the Escape provides the same great vacuuming power of your pool's floor.
While it is designed to be limited to the pool's floor for above-ground pools, it doesn't mean its cleaning is limited at all. Unlike other above-ground pool cleaners, the Escape utilizes HyperGrip tracks that allow it to stick to the pool floor and use its HyperBrush to actively scrub the pool floor – rather than just run over debris.
This HyperBrush scrubs 2 times the speed of the unit, allowing the Escape to clean up anything in its path. Built into all Max-Series robots, this is a feature you won't want to miss – especially in an above-ground pool. Our pool experts loved the Dolphin Escape in their testing and gave it thumbs up all around – leading the Dolphin Escape to be the best Dolphin above-ground pool robot in 2023.
Best Cordless Pool Robot: Dolphin Liberty 200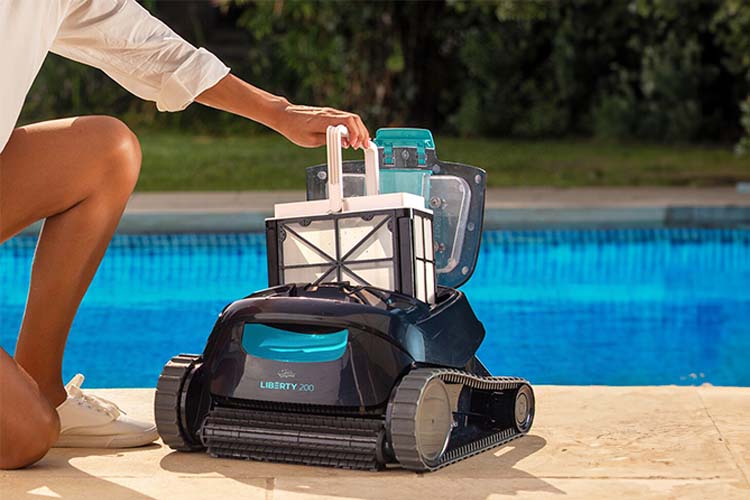 While a cordless robot has a few downsides, such as short battery and constant charging, the Dolphin Liberty 200 is still the best cordless robotic pool cleaner out there. Apart of the new Liberty Series, it is great for select usage when an extension cord can't reach your pool - besides that, corded robots such as the ones found in the Dolphin Max-Series and Dolphin ProLine outperform the Liberty 200 in every category - including filtration. So if you need the ability to be cordless, the Dolphin Liberty 200 is the way to go. Otherwise, we suggest looking elsewhere for a robotic pool cleaner.
Conclusion and Recommendations
After exploring the top Dolphin pool cleaner models, considering their features, performance, and user feedback, it's time to conclude our search for the best pool robot. While all three models, Dolphin Premier, Dolphin Quantum, Dolphin Sigma, offer excellent cleaning capabilities and user-friendly features, one stands out as our top recommendation.
What's the best Dolphin pool cleaner?
Based on its Multi-Media™, NanoFilters™, and exceptional 3 year warranty, the Dolphin Premier emerges as our top choice for the best pool robot for 2023. After our pool experts dove in and tested nearly every pool robot on the market, the Dolphin Premier outperformed every other cleaning - giving it the title of the best Dolphin pool cleaner. With its SmartNav 2.0 technology and commercial grade motors, this robot provides thorough cleaning and reduces the need for frequent maintenance in your swimming pool. Its energy-efficient design and programmable cleaning schedules make it a convenient and cost-effective option for pool owners. Known for its durability, reliability, and overall value for money, our pool experts agree the Dolphin Premier is the best Dolphin robotic pool cleaner. If you want to read more of our top Dolphin picks, make sure to check out our best in-ground Dolphin pool robots and best above-ground Dolphin robotic pool cleaners for 2023.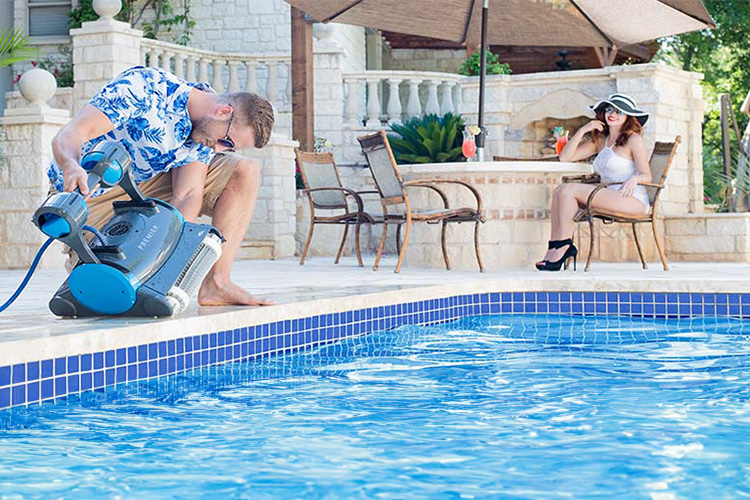 However, it's important to consider your specific pool requirements, budget, and personal preferences when making your final decision. If you have a smaller pool or seek advanced connectivity features, the Dolphin Sigma may be the ideal choice for you. If you prioritize quick cleanings and the easy-to-clean MaxBin™, the Dolphin Quantum may be for you.
In addition to selecting the right pool robot, it's essential to follow proper maintenance practices. Regularly clean and maintain your pool robot by emptying and rinsing the filters, and make sure to inspect for any signs of wear or damage. Adhering to the manufacturer's guidelines and recommendations will ensure the longevity and optimal performance of your pool robot.
In conclusion, pool robots have revolutionized pool maintenance by providing efficient, convenient, and thorough cleaning solutions. By considering the factors discussed in this guide and our top recommendation, the Dolphin Premier, you can confidently choose the best pool robot for your swimming pool. Enjoy a clean and sparkling pool with minimal effort and more time to relax and enjoy the benefits of pool ownership.