Want the best Dolphin in-ground robotic pool cleaner? Finding the best robotic pool cleaners from Dolphin can be hard. A leader in the pool robot industry, Maytronics' Dolphin brand is one of the best-selling automatic pool vacuum brands. With reliable performance, great customer service, and a name you can trust, Maytronics leads the industry of manufactuering robotic pool cleaners. With this helpful guide, our pool experts aim to narrow down your search and help you find the right in-ground robotic pool cleaner.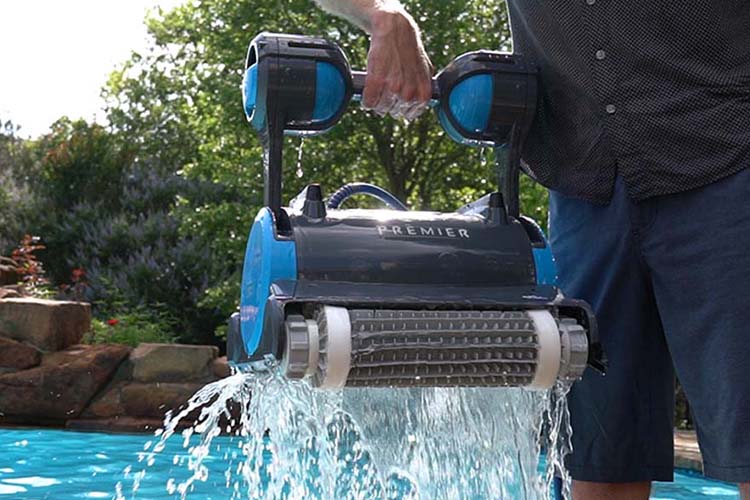 What to Look For
Whether you have an gunite, fiberglass, vinyl or even tile swimming pool, there is a pool robot for you. Most robotic pool cleaners are a one-size fits all.
In our Pool Robot Guide, our pool experts cover the most important things to look for when looking for a robotic pool cleaner. The best pool vacuums are by far robotic pool cleaners. Automating your in-ground pool cleaning can make pool ownership so much easier. That's why we've laid out the 3 most important things to look for, especially for an in-ground pool, is: Filtration, Waterline Cleaning, and No Restocking Fee.
NanoFiltration
New for 2023 Dolphin ProLine™ and Dolphin Max-Series models, NanoFilters are Gen-2 Filtration in models. These filters set a new bar for robotic pool cleaners as they no longer only act as a pool vacuum, but also as a secondary pool filter.
Cleaning what you can and can't see, the difference in cleaning performance is astonishing. NanoFilters capture what the standard filters miss - unlocking a deeper clean. The regular plastic mesh filters that are included with most robotic pool cleaners simply can't always get the job done - especially when it comes to microscopic dirt and debris. Able to capture oil, sand, and even pet hair, these NanoFilters are a must-have for any inground pool owner.
Waterline Cleaning
If you're an inground pool owner, you're probably quite familiar with a pool brush and vacuum. With waterline cleaning, put the pool brush and vacuum back in the shed. Robots with this feature will be able to climb and scrub horizontally along the waterline. With optimized routes, the cleaner helps clean this problematic area. Otherwise, if you choose a unit with only wall climbing, you'll still need to scrub the waterline of your pool. With over 90% of bacteria, dirt, and debris living on your pool walls, it is obvious why every in-ground pool owner needs this feautre - as it allows truly automatic pool cleaner.
No Restocking Fee and 30 Day Risk-Free Trial
Lastly, you'll want to avoid any restocking fees. What a lot of pool stores don't tell you is that there is hidden restocking fee. If you decide you don't want to go with a robot you purchased, they can charge you 20% or more - even if you didn't open the box!
Here at Poolbots, we think that's wrong. That's why every pool robot we sell has a 30 day risk-free trial. As one of the largest Authorized Dolphin dealers, our pool experts pride ourselves on helping you find a robotic pool cleaner you love. Robot doesn't work out for your pool or want to try another one? No worries, just send it back. It's that simple. And if you need help finding one, get 1-on-1 support via our contact page where you can talk to our resident pool experts via chat, phone, or email!
Now that we've covered the important things to look for, let's jump straight in to Number 1 on our list for the best Dolphin Pool Robots for in-ground pools!
1

Dolphin Sigma

At the #1 Spot, the Dolphin Sigma is the best overall Dolphin in-ground pool cleaner. With three motors, a gyroscope, smartphone app, and more, the Sigma is one of the most advanced robotic pool cleaners ever. The 2023 model does not disappoint. Upgraded with included NanoFiltration, the Sigma is a high-powered, efficient pool cleaning machine.
Commercial-Grade Cleaning
Vacuuming and filtering over 4500 GPH, the Sigma is unique in that it utilizes not one, not two, but three commercial-grade motors. Acting as a secondary pool filter, the NanoFilters unlocked a clean our pool experts have not seen in any other robotic pool cleaner. These filters are exclusive to Gen-2 pool robots and capture what the Gen-1 standard filter would miss. With a 60ft cord and anti-tangle swivel, the Sigma is perfect for all shapes, sizes, and surfaces.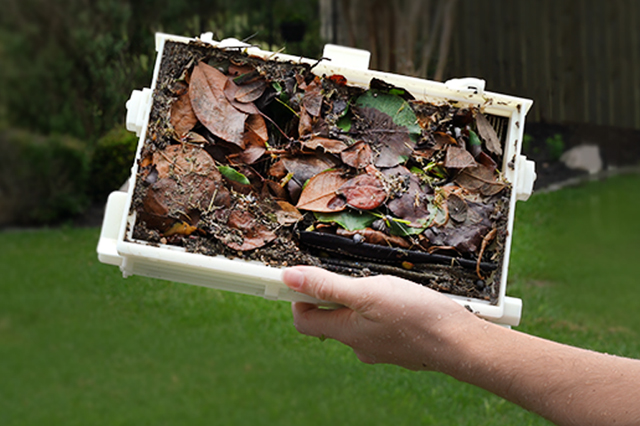 Most Advanced Dolphin Pool Robot
The smartphone app is easy-to-use and intuitive. With more features in the app than standard Dolphin wi-fi models, the Sigma boasts a few features we loved when using it in our test pool such as:
Advanced Scheduling: Schedule Sigma to clean on specific days and times, allowing more customizability than ever before. Clean 12pm on a Saturday and 5pm on a Friday, the Dolphin Sigma has no limits.
Remote Drive: Control Dolphin Sigma right from the palm of your hand. Whether you want to clean a pile of leaves in the corner of your pool or want to have fun letting the kids drive the robot around, the Dolphin Sigma makes cleaning easy.
Pool Stats: Sigma keeps advanced stats such as gallons filter, distance travelled, and more. Access all of this data and more inside of the myDolphin Plus app.
Voice Control: "Hey Siri, start cleaning my pool." Built into the robot, the Sigma can be controlled via voice control, a feature that not many other pool robots can say.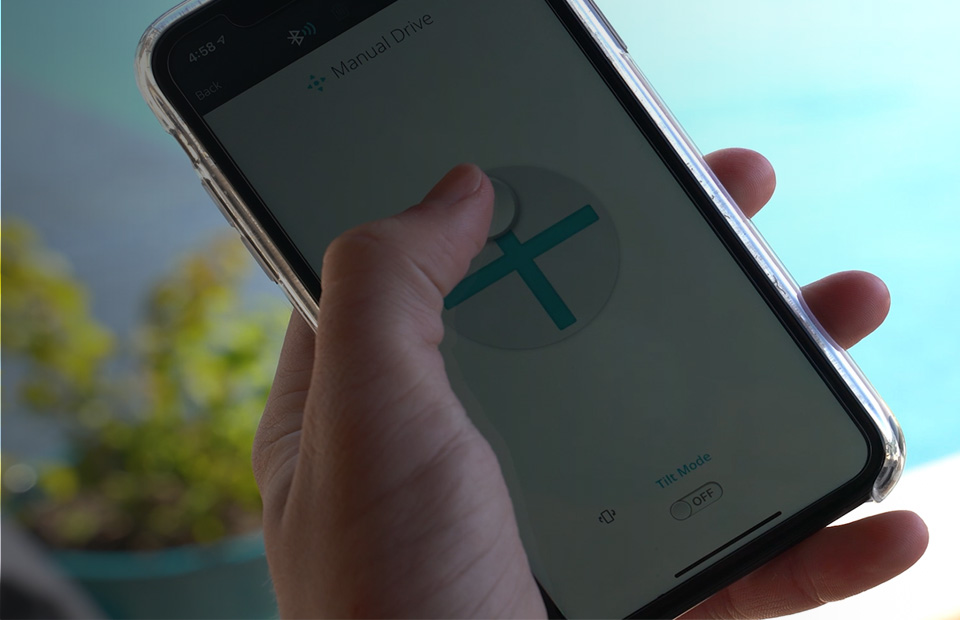 3 Year Warranty + No Restocking Fee Ever.
The Sigma has a longer 3-year warranty over standard Dolphin pool cleaners. That's a 50% increase! Combine with all ProLine™ dealers offering a 30 day risk-free trial and no restocking fee, it's never been easier to try a robotic pool cleaner in your swimming pool.
2

Dolphin Premier

The Dolphin Premier is the second ProLine™ pool cleaner on our list and rightfully so. The Premier is the perfect blend of performance, value, and fantastic cleaning ability.
Only Dolphin with Multi-Media™
The Dolphin Premier is the only robot with Multi-Media™ and includes 3 filters right out of the box and an optional 4th filter:
NanoFilter Set: The must-have filter sets the new 2023 ProLine™ and Max-Series™ models apart from the rest. These filters clean deeper than ever before. Stopping dirt, leaves, and even oil, from polluting your pool. Acting as a secondary filter on your pool, these filters clean better than the Gen 1 filters found on other Dolphin pool robots.
Oversized Leaf Bag: Our favorite and an exclusive to the Dolphin Premier, the Premier's leaf bag is able to hold leaves, twigs, and more. Perfect for pools with lots of leaves and why our pool experts rated Premier the best pool robot for leaves.
Standard Filter Set: This filter is great when wanting to pick up the larger debris and maximize flow rate. As the NanoFilters and Leaf Bag have superior function, we found we didn't use the standard filter as much in our testing.
Disposable Debris Bag (Optional): For those that don't like to clean, simply toss the bag away once you're finished. We loved how simple and easy to use they were, while providing the excellent performance found in the oversized leaf bag.
Best Dolphin Pool Robot for Leaves
The only Dolphin on our list with a leaf bag, the Premier stands out as the best Dolphin robotic pool cleaner if you have a lot of leaves in your pool. Featured in our best robotic pool cleaners and best Dolphin pool cleaners lists, there is no doubt this is the best solution to vacuuming leaves in your swimming pool. If you have a lot of leaves, wouldn't you want the only cleaner with a filter option specifically made for it?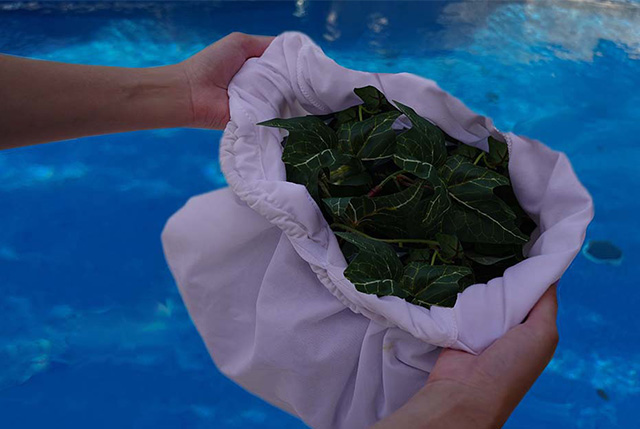 The Premier's leaf bag has the largest capacity of any Dolphin filter. Allowing you to clean more than ever before. Whether it is leaves, twigs, or bugs, the Premier's oversized filter bag has you covered.
Best-in-Class Warranty
Just like the Sigma, the Premier has a 3-year warranty, 30-day risk-free trial, and no restocking fee ever. That way, you can try Premier in your pool for 30 days. Don't like it? Just return it. No questions asked. Leaving you to get back to what is important, enjoying your swimming pool.
3

Dolphin Cayman

Diving into one of the best values there is in Maytronics pool cleaners, the Dolphin Cayman sets the standard for what a pool robot should be: Affordable, reliable performance, and great filtration.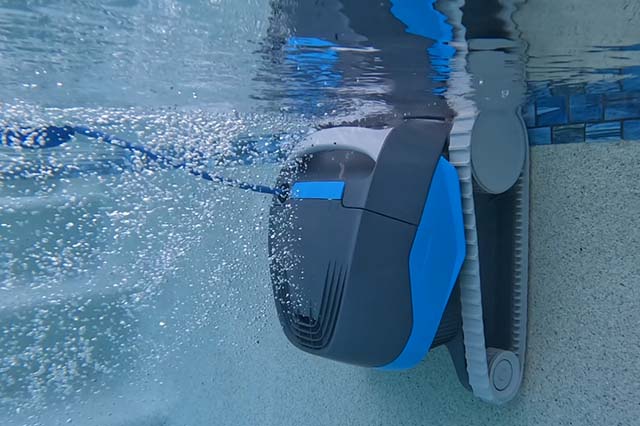 Best Value Robotic Pool Cleaner
Priced lower than the Dolphin Nautilus CC Plus with the addition of a MaxBin™, this Gen-2 pool robot knows how to clean.
Solid and Effective Clean
With an impressive vacuuming power of over 4000 GPH and a MaxBin™, cleaning your in-ground pool has never been easier. With an included programmable weekly timer, you can set Cayman to clean your pool every single day – so you just have to clean it once a week.
The wall climbing performance is just as impressive as well. While most cleaners in this price range just stay on the ground, the Dolphin Cayman can scrub the walls for you. While there isn't waterline cleaning like found in the other robots on this list, this is a great budget option if you want most of the benefits of a robotic pool cleaner.
NanoFiltration Available
If you own an in-ground pool, you know how important filtration is. While most pool robot filters are just plastic mesh, the Cayman has the ability to upgrade to the NanoFiltration that is taken from the Dolphin ProLine™. With a simple switch of the panels, you can upgrade the Dolphin Cayman to clean ultrafine dirt, debris, and sand out of your pool.
4

Dolphin Quantum

Apart of the Max-Series and ProLine, the Quantum has a unique combination of waterline cleaning, NanoFiltration, and a XXL MaxBin™. With an impressive cleaning performance, this automatic pool cleaner is one of our favorite 2023 models.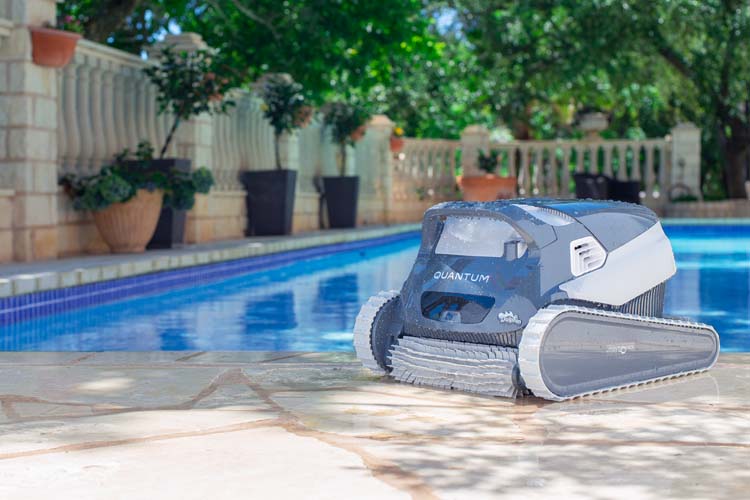 PowerJet 3D Mobility
What you'll notice on the Dolphin Quantum that allows it to clean at the waterline are two side propulsion jets - called PowerJets. With this PowerJet 3D mobility, the Quantum can move horizontally along the waterline scrubbing. Rather than a dual stabilizer like found on the Dolphin Premier or Sigma, the Quantum still achieves a great clean at the tileline thanks to these jets.
XXL MaxBin™ with Included NanoFilters
Our favorite part: the XXL MaxBin™. Over 225% larger than the standard cartridges found on units such as the Dolphin Nautilus CC Plus, the Dolphin Quantum picks up any vacuumed debris right into its oversized MaxBin. But that's not even the best part.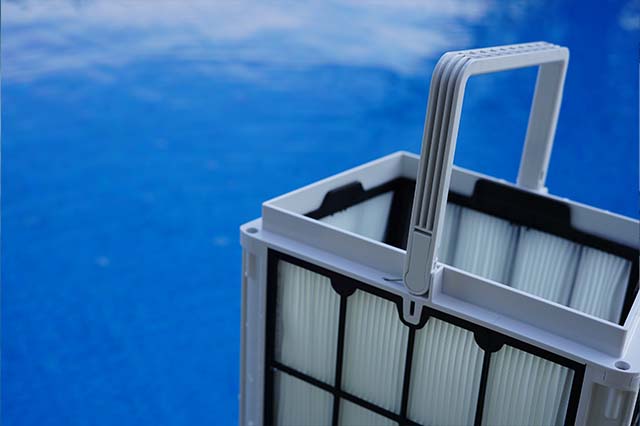 NanoFiltration is included right out of the box. These filters are so great, especially when combined with the XXL MaxBin™. We loved how much debris and leaves the basket could hold - putting the Dolphin Quantum high up on the top in-ground robotic pool cleaners for 2023.
5

Dolphin Explorer E70

The Dolphin Explorer E70 has it all. At the top of the Dolphin Explorer line, the Explorer E70 is a cleaning machine. With motors powering 4500 GPH through its top-loading filters, the Explorer E70 is one of the best Dolphin pool robots we have ever tested. But is it worth it?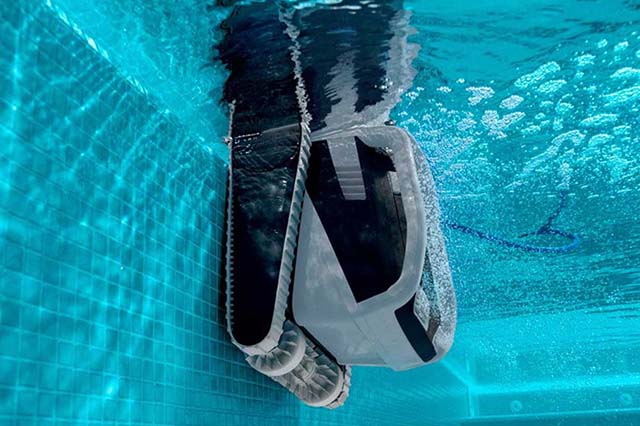 Most Expensive Dolphin Pool Robot
Coming in at around $2000, the Dolphin Explorer E70 is one of the most expensive Dolphin residential pool robots out there. While it isn't quite as mich as the Dolphin Wave Commercial units, it costs a pretty penny. With few upgrades over the Dolphin ProLine robots, it is hard to justify the extra cost. So let's dive into the differences.
High-Tech Cleaning Performance
With a maximum pool size of 50ft, the Explorer E70 can clean just about any in-ground pool. From gunite, fiberglass, or vinyl, the E70 climbs and cleans like a pro. The suction rate is 4500 GPH, which is the same as the Dolphin Premier and Dolphin Sigma. With the myDolphin Plus app, you get all the same great features found in the Sigma and the addition of a tempature sensor. While we didn't find ourselves using the temperature sensor very often, it is a super nice addition to have.
Is it worth the extra money?
So is it worth the price jump from the Dolphin Sigma? Probably not. With the only real addition being the temperature sensor and an included caddy, the price jump isn't worth it. If you want the best and most expensive option, this could be the robot for you – but there are better values out there that we covered in the rest of our list. The Dolphin Sigma is a fantastic alternative that is cheaper, has all the same great features, and the same 3-year warranty. But thanks to the Dolphin Explorer E70's performance, it earned itself the last spot on our list.
Which Dolphin robot is best for your in‑ground pool?
Our top two choices are the Dolphin Sigma and Dolphin Premier. With a great price, 3-year warranty, and NanoFiltration, these 2023 models are the two best in-ground pool robots. These ProLine™ models set the standard for what a pool robot should be. With exceptional vacuuming performance, our pool experts love these models.
Need help choosing a robotic pool cleaner? Speak to our pool experts via LiveChat, phone, or email at our contact page where they can go over your pool and its needs to help find you the perfect pool robot in your budget. Make sure to check out Pool Robot Guide and Best Robotic Pool Cleaners for 2023 articles as well!