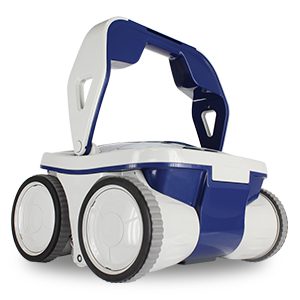 The Aquabot X4 Robotic Pool Cleaner
For the latest is automatic pool cleaner technology, the Aquabot X4 is leading the pack. With four-wheel drive and Autox™ pool mapping, it no wonder that this pool robot is dominating as both an above ground cleaner and an inground cleaner.
The Aquabot X4™ has refined the best robotic pool cleaner filtration system in the industry to capture more dirt and debris and make your pool clearer than ever thought possible. The X4's ultra-fine mesh filter baskets are easy to access and capture everything from large debris to small particulate down to 2 microns - that's better filtration than most drinking water filters!
AutoX™ Pool Mapping
Aquabot X4 robotic cleaners are built to take the work out of keeping your pool clean. AutoX Pool Mapping technology sizes up your pool to determine the approximate dimensions and chooses the optimum cleaning cycle for your pool. Aquabot is built for all pool types- as an inground and above ground pool cleaner. It navigates obstacles such as stairs and ladders as it cleans the entire pool no matter the surface. All you need to do is drop the Aquabot pool robot into your pool and you can focus on enjoying your pool.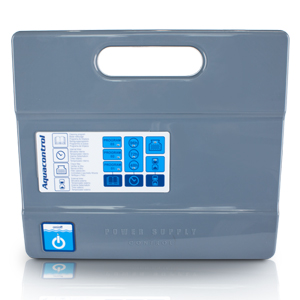 Easy to Operate
The power supply's convenient control panel allows you to easily designate when your Aquabot 4 pool robot runs a cleaning cycle.
With programmed settings for 1, 1.5 or 2-hour cleaning cycles, as well as timer settings for your Aquabot X4 to run automatically every 48, 72 or 96 hours, it's never been simpler. You can even attach an external timer for further control over the cleaning schedule. And when the filter on your Aquabot X4 needs to be changed, a convenient indicator on the power supply alerts you. Best of all, since Aquabot is fully automated, you hardly need to lift a finger to have your cleanest pool ever.
Energy efficient
Aquabot runs efficiently on only 180W, so you can clean your pool more frequently and still save on energy costs.
While suction side cleaners operate off of your pool pump, adding to your energy costs and putting additional strain on your pump and pressure-side cleaners require a booster pump and consume even more power, the Aquabot X4 pool cleaner uses a separate, low-voltage power supply, to give you a significant energy and cost savings. The result is a more comprehensive clean for up to 15x less money than other cleaners.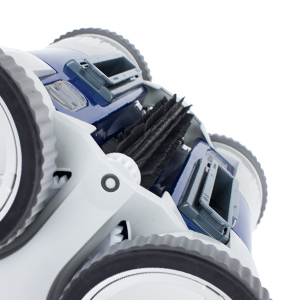 Powerful jets and brushes
Typically, only 1% of pool contaminants are suspended in the water, that's why the Aquabot X4 was designed to scrub and clean all of your pool. The durable micro-brushes on the Aquabot X4 pool robot scrubs your pool clean, from floor to waterline and everywhere in between. The rotating micro-brush agitates the surface and loosens up stubborn dirt, debris, algae and bacteria as it moves, including along the walls and waterline where contaminants can build up.
Extreme 4-wheel drive
The Aquabot X4 runs on a true 4WD system to take on your pool no matter what shape. The efficient but powerful drive system propels all four of the non-marring high-grip wheels for superior traction on all surfaces, including tile. Able to handle 90-degree pool floor-to-wall transitions with minimal slipping is something most pool robots can't boast.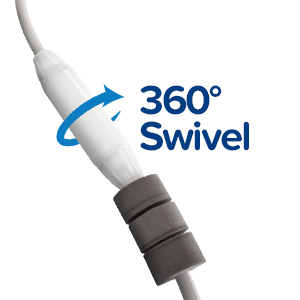 Anti-Tangle Technology
A brand new anti-tangle swivel gives you the confidence that your pool will be cleaned without any hang-ups. The Aquabot X4 pool robot is designed for a truly automated cleaning with no more time wasted untangling lengths of cable halfway through a cleaning cycle. The Aquabot X4 pool robot navigates your entire pool seamlessly with the anti-tangle swivel keeping your cord knot free.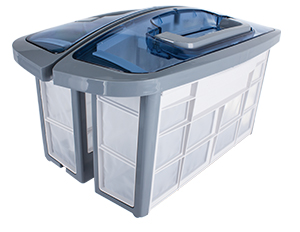 Dual-Media Filtration
The Aquabot X4 uses ultra-fine mesh filter baskets to capture dirt, debris and fine particulates down to 2 microns in size. That's better water filtration than most drinking water filters, so you can count on the cleanest, healthiest water for you and your family. The Aquabot X4's powerful pumps circulate up to 85 GPM for the best water mixing in the industry that ensures all of your pool gets cleaned. Better mixing and better filtration means that your water remains cleaner with fewer chemicals. And because owning a pool robot is supposed to make your life simpler, the large, sturdy filter baskets holds up to 190 cubic inches before needing to be cleaned.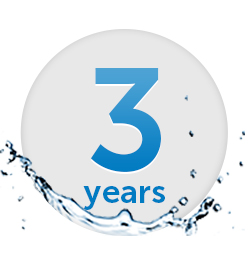 3-Year Warranty
The Aquabot X4 is the best value you can get in a pool cleaner, and it has a great warranty. Your Aquabot is backed by a full bumper-to-bumper warranty for a period of one year and three years of coverage for the power supply, pump and motor. Not only is the Aquabot X4 the easiest and best way to get your pool sparkling clean, but it is built to last, so you can enjoy years' worth of healthy, hassle-free water.
Specifications
Cleaning Time
3 Hours
Pool Type
Above Ground & Inground
Propulsion:
4 Wheel Drive Train
Coverage
450 sq. ft. / per hr
Surfaces:
All Pools (Wheel kit available for tile and fiberglass)
Filter Capacity
190 (2x95) Cubic Inches
Voltage Power Supply
24 VDC
Standard Features
Wall Climbing
Yes
Filter Loading
Easy Top Access, Clear View
Filter Type
2 Filter Baskets with Nylon Mesh
Technical Data
Operating cost:
$0.05 (per cleaning)
Warranty:
3 Years
Cable:
60 ft.
Wattage:
180W
Customer Questions & Answers
Verified Customer Reviews
In Stock

$599.00

$579.00

$579.00

ON SALE