A robotic pool cleaner can change the way you clean your swimming pool. With impressive vacuuming and suction power, these robots can easily pickup leaves, twigs, and even algae. A huge benefit of a robotic pool cleaners is automating your pool maintenance. With so many models of Dolphin robotic pool cleaners, it can be hard to choose. Luckily, our pool experts are here to help break it down for you!
What is an Above-Ground Pool Robot?
Above-ground pool robots are pool vacuums designed specifically for above-ground swimming pools. These robots operate independently of the pool's filtration system and are designed to clean the pool's floor and even the walls. By using a combination of suction power, brushes, and filtration systems to remove leaves, algae, and debris, these pool robots ensure your above ground pool stays clean and healthy. That way, you can sit back and enjoy your pool.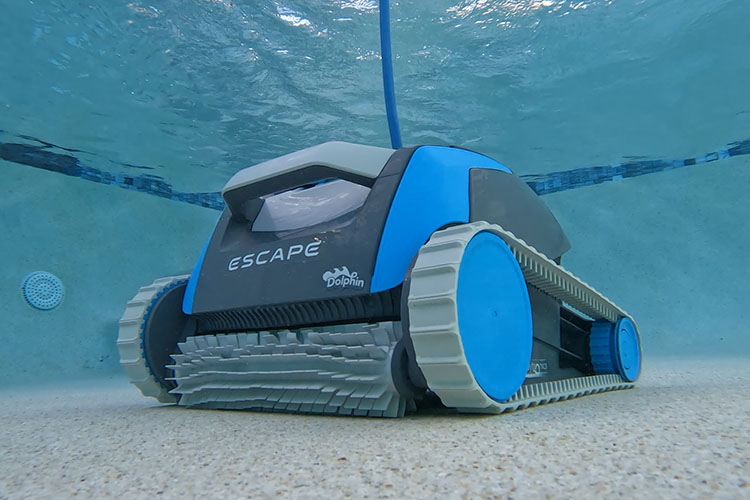 Why Dolphin?
Maytronics is one of the oldest and most respected robotic pool cleaner companies. Founded in 1983, Maytronics has been around for over 40 years. With a wide variety of pool products, their Dolphin brand are some of the most reliable above-ground robotic pool cleaners.
What are the essential features?
The key features of an above-ground pool robot vary from their in-ground robotic pool cleaner counterparts. These robots tend to have less features and stick to the pool floor and possibly pool walls. The 3 main things to look for are: powerful suction, active scrubbing brushes, and filtration system. These filters define the best above-ground robotic pool cleaners and are what make them stand out. Additionally, features such as programmable timers and wall-climbing may enhance the cleaner's performance and user-experience.
Best Dolphin Above-Ground Pool Robots
Now that you know what to look for in an above-ground pool robot, let's dive into our pool experts' top picks. With so many Dolphin models, it can get confusing on which to choose for your swimming pool. Luckily, we're here to help break it down for you.
1

Dolphin Escape

Diving into the flagship Dolphin above-ground pool robot, the Dolphin Escape is the top choice for above ground pools. With HyperBrush active scrubbing, SmartNav 2.0, and even optional NanoFiltration, the Escape sets a new bar for above ground pool robots.
Best Above-Ground Dolphin Robot
Awarded the Best Above Ground Dolphin pool robot, the Dolphin Escape is part of the 2023 Max-Series lineup. The Max-Series signifies a level of excellence, equipped with three key features: MaxBin™, HyperBrush, and NanoFiltration Capability.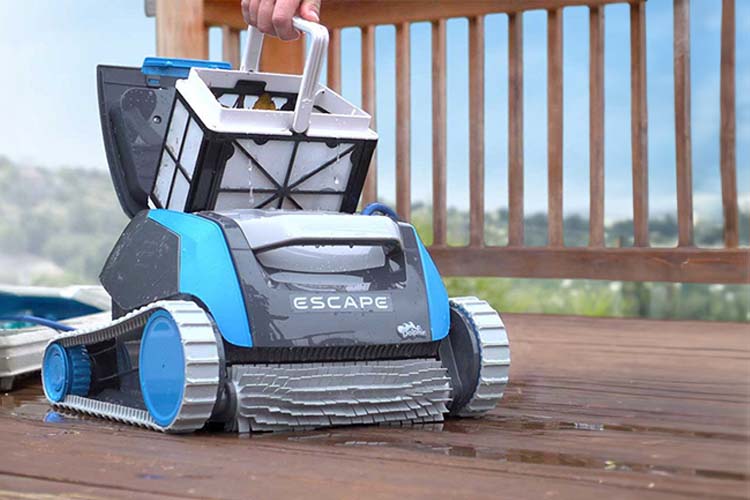 What's Included
MaxBin
The MaxBin™ is a large-capacity debris container designed to hold more dirt and debris, reducing the frequency of emptying and maintenance.
Full Floor Coverage
Full Floor Coverage ensures that every inch of your pool's floor is thoroughly cleaned, leaving no spot untouched.
HyperBrush Scrubbing
HyperBrush Scrubbing is a powerful feature that actively scrubs away stubborn dirt and algae, providing a deeper clean.
NanoFilter Capability
NanoFilter™ Capability enables the robot to capture ultra-fine debris, such as sand and silt, ensuring crystal clear water.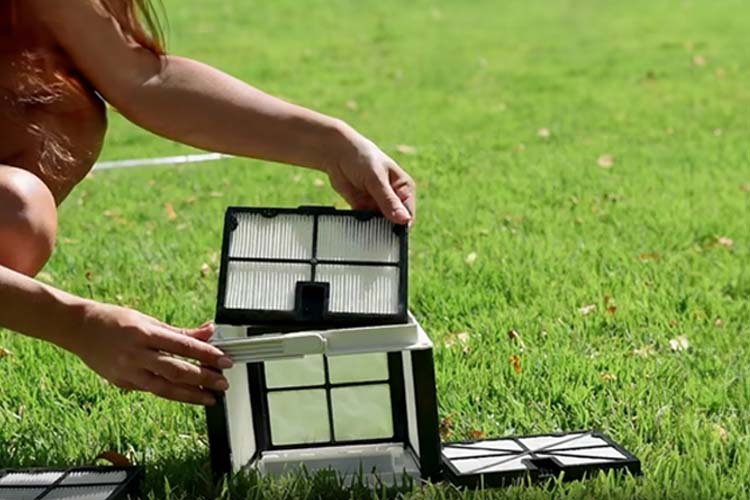 What's Missing
Programmable Timer
The absence of a Programmable Timer means you will need to manually turn it on every use, which can be less convenient for some users.
Wall Climbing
Lacking Wall Climbing capabilities, the Dolphin Escape focuses solely on the pool floor, leaving the walls unattended. While not needed in an above-ground, it is a nice feature to have.
2

Dolphin Cayman
Best Splurge
The Dolphin Cayman stands out as the best choice if you want the best of the best. With additional features that make above-ground pool ownership easier, this robot makes vacuuming and scrubbing your swimming pool a breeze.
What's Included
Wall Climbing
The Cayman climbs and cleans your pool's walls. Rather than just sticking to your pool floor, the Cayman provides great coverage of the dirtest part of your pool - the pool walls.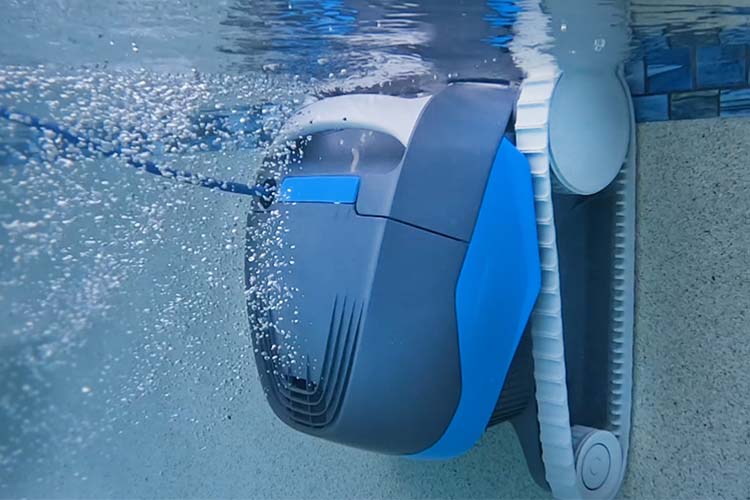 MaxBin Filtration
MaxBin Filtration offers a large, easy-to-clean filtration system. With a dropdown basket, the filter can be cleaned and rinsed in seconds.
Programmable Timer
A Programmable Timer adds convenience, allowing users to set cleaning schedules according to their preferences.
NanoFilter Capability
NanoFilter™ Capability in the Dolphin Cayman ensures the capture of the finest particles, maintaining water clarity at an optimal level. Free with Purchase at Poolbots and select Authorized Dealers, these upgraded filters help the Cayman keep your water crystal clear.
What's Missing
Nothing
The Dolphin Cayman is an all-in-one solution for above-ground pools. With the NanoFiltration upgrade and Weekly Timer, the Cayman makes pool maintenance so much easier. Just simply rinse the filter once a week and it'll do the rest.
3

Dolphin E10

The cheapest Dolphin in Maytronics' lineup is the Dolphin E10. If you're just getting your feet wet into a robotic pool cleaner, this is a great place to start. The entry level robot from the Explorer series, this robot is a great choice for those on a budget but still want the reliable Dolphin brand.
Best Budget Option
The best budget option on our list, the E10 makes a few compromises, but not many. With 4000 GPH of suction power, the E10 cleans with a ton of power still that didn't disappoint in our test pool.
What's Included
Floor Coverage
This little cleaner that could does a fantastic job covering the pool floors. As it navigates up and down utilizing Dolphin's CleverClean technology, the robot picked up leaves, twigs, and even some acorns that fell onto the pool floor.
Top Load Basket
This debris was stored in the top-loading basket. Super easy to clean, you simply just unclick it and dump.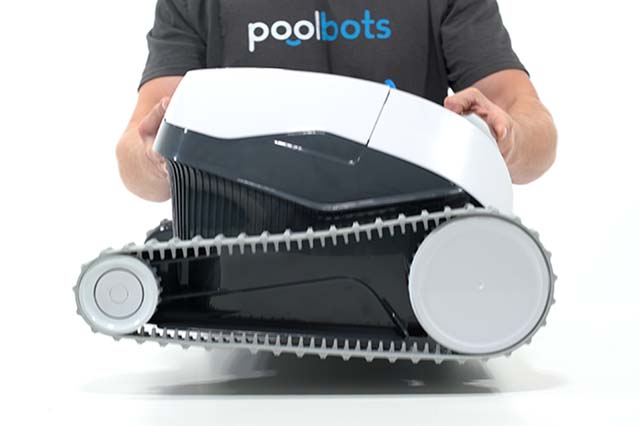 What's Missing
So what's missing when you buy the E10? Frankly, there are a few features you're giving up when going with the entry level model that you may want, especially with filtration.
NanoFilters
The biggest letdown is the lack of NanoFiltration. Unlike the Dolphin Cayman and Dolphin Escape, the Dolphin E10 does not have the NanoFiltration capability. The E10 misses fine debris such as algae, sand, and dirt that otherwise would be captured by NanoFilters™.
Programmable Timer
While not essential, a programmable timer is a feature that you may want as an above-ground pool owner.
Wall Climbing
The Dolphin E10 does clean the pool's walls, focusing its cleaning solely on the pool floor.
4

Dolphin Liberty 200

The Dolphin Liberty 200 is the entry-level cordless pool robot from the Liberty line. Introduced in 2023, this robot is a great choice if you want to go cordless. Perfect for any above ground pool, whether you have an Intex or Summer Wave pool.
Best Cordless Above-Ground Robot
It's by far the best cordless Dolphin robot for above-ground pools, offering the convenience of a battery while still providing a great performance.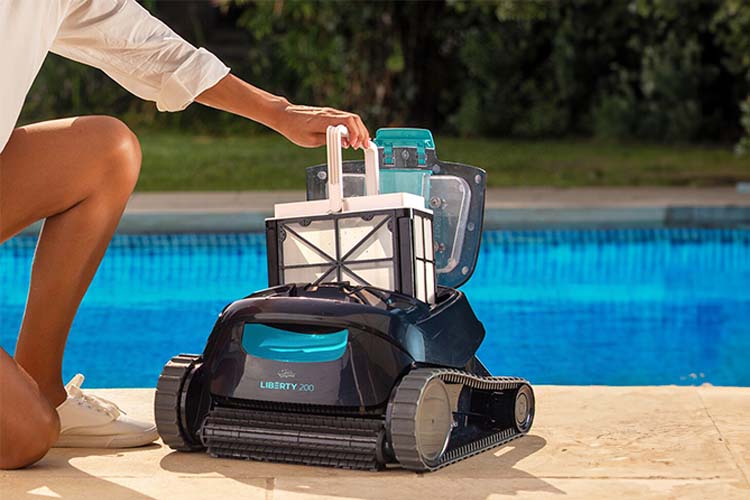 What's Included
Top Load Filter
The Top Load Filter is designed for easy access and maintenance, ensuring effective debris collection.
Cordless Design
The Cordless Design of the Liberty 200 provides unparalleled freedom of movement, eliminating the hassle of dealing with cords.
What's Missing
NanoFilters
Like the E10, the Dolphin Liberty 200 lacks NanoFilters™, limiting its ability to capture extremely fine debris.
Programmable Timer
The absence of a Programmable Timer means the robot cannot be set to clean at predetermined times, requiring manual activation.
A Better Battery
The battery life of the Dolphin Liberty 200 is a significant drawback. Although it is cordless, the need for frequent charging can be inconvenient, especially given its price point and compared to corded models with more advanced features like daily cleaning schedules and more constant power.